Posted on Friday, January 2nd, 2015 at 7:49 pm.
While spring might feel like a world away, your residential awning may be ready for a seasonal cleaning. Winter in Maryland has been relatively mild so far this year, so grab the opportunity on one of those warmer days coming up, and give your awning the extra attention it needs.
Cleaning your residential awning at least once a season is an easy way to protect your investment, but it will also keep your home looking picture perfect. Below are a few tips and suggestions that will make cleaning your fabric awning this winter quick and effective.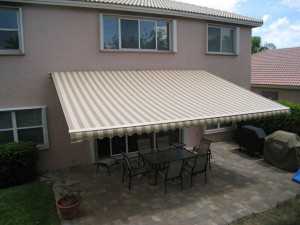 Start with the basics
Use a broom to clear your awning of any debris, dirt, leaves, and twigs that may have accumulated since the last cleaning. Get a safe bird's eye view of your awning before sweeping. Find a stable position so you're not straining to get into the nooks and crannies where debris may be hiding.
Break out the garden hose
If your garden hose has been collecting dust in the back of your garage over the last couple of months, break it out for an hour. Use a hose to spray your awning down in a descending motion. Make sure to get the sides, too, if your awning has them.
Use a gentle cleanser and take it easy
Once your awning has been brushed and hosed down, it's time to get to work. Mix a gentle solution of warm water with a mild soap. Depending on the size and condition of your awning you may want to also prepare a spray bottle with a more condensed solution to target especially tough spots. Allow your fabric awning to soak up the cleaning solution for a few minutes before moving on to the next step.
A soft touch will go a long way
Your awning is made of a durable and densely woven fabric, but that's no reason to break out the Brillo pad. Use a brush with soft bristles to work the solution through the fabric. While this may be the most labor-intensive part of the cleaning process, it is also the most rewarding. Getting rid of any mildew or bird droppings that have collected over time will not only improve the appearance of your awning, it will improve the health and sanitation of your home.
Final rinse and dry cycle
The final step in awning care and maintenance for this season is a good old-fashioned rinse. Make sure the stream of water falling off your awning is clear and that all detergent residue is removed. Take care to sweep away any cobwebs that might be hiding out underneath your awning, and let nature do the rest of the work. Your residential awning should be thoroughly dry and ready for another season within 24 hours.
Through our combined locations and experience, Carroll Awning Company provides innovative craftsmanship, superb service, competitive pricing and unfailing attention to details in order to deliver a product that exceeds expectations.
Call for a FREE on-site estimate at 1-800-999-5617 or click here today!