Solar Shades
---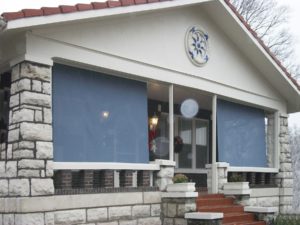 Homeowners tend to gravitate towards solar shades because of their convenience and ease of use. In fact, solar shades are a great way to protect your home from too much sun exposure and UV rays. Solar shades are a great energy-saving way to amplify your home and protect it from the sun. For most homeowners, sustainability becomes increasingly important. Incorporating solar shades into your home is a great way for homeowners to reduce their carbon footprint and help the environment while simultaneously protecting their homes. Our exterior solar shades and made with homeowners in mind. Solar shades are designed to give you a durable and protective product that you can use for years to come.
Retractable Screens
One of the many perks that come with solar shades is the retractable screens that accompany many of them. In fact, homeowners who have garages, patio, or porches can ultimately benefit from solar shades. For those who are looking for a convenient and eco-friendly way to provide a nice breezy area for their outdoor space, solar shades can do just the trick. Designed with motorized screens, solar shades are the perfect combination of luxury and convenience that you can easily bring into your humble abode.
Horizontal Shades For Your Home
Providing ample shade for your home — specifically, your porch or patio can really do wonders for how you enjoy your outdoor space. In fact, horizontal shades can be a great option for many homeowners seeking out the necessary shade options to protect their homes. They can also act as a light windscreen by blocking any potential wind as well.

Give Us A Call Today
Looking for a solar shade for your home? Give us a call today and our experienced professionals can help get you exactly what you need to suit your needs.