Posted on Friday, December 28th, 2012 at 8:48 pm.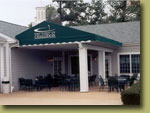 As the year 2013 approaches, consumers are more willing to give and take long vacations and lovely weekend getaways.
Hotel awnings are a perfect way to attract potential customers to your hospitality business. You can truly set your hotel apart from your competition with custom awnings and canopies.
Carroll Awning Company designs quality awnings and canopies for a variety of renowned hotels and resorts.
We can install hotel patio awnings, guest room window awnings, door covers and commercial canopies for your entire hotel establishment. We have your metal awnings. We have your retractable awnings.
What ever you need, we have got you covered so your hotel can have the additional dining space and poolside comfort all hotel guests desire for a wonderful outdoors experience.
For more information on Hotel commercial awnings and canopies ( as well as a free quotation) call Carroll Awning at 1-800-999-5617 or click here today!