Posted on Sunday, October 14th, 2012 at 8:48 pm.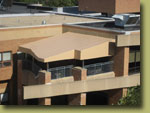 Does your office space need a different, better look and feel? If yes, consider indoor awnings.
Indoor awnings can truly set your business apart from competitors.
You can use indoor awnings to set apart an indoor dining area with a custom covering and trellis.
You can use indoor awnings to wall off designated office space rather than using cubicles. Not only are indoor awnings more attractive than cubicles but awnings improve productivity in the work space.
Have Indoor awnings installed on your interior entrances or each office suite your office building.
Carroll Awnings  can create custom awnings with perfect lighting for you – stores, restaurants, entertainment venues, offices and sport arenas… you name it.
Let us design and create the perfect indoor commercials awnings for your business today.
Carroll Awning Company is here to help your business appear aesthetically pleasing and always be practical. You will never have to worry about customers or clients being unprotected from the elements. You will be able to properly expand your business' outdoor space, which automatically adds efficient space to your revenue areas. If you have more space, you have more potential to increase business profit.
Awnings are great additions to hotels, restaurants, bars, office buildings, schools, hospitals, shopping malls and so much more.
Choose retractable awnings to give you the sun and shade you desire. Carroll Awning Company will protect your building appearance and physical condition today with our custom-made awnings.
For more information on 
commercial awnings
 and free quotation call Carroll Awning at 
1-800-999-5617
 or 
click here
 today!
Awnings can be used to advertise a business, beautify a building or home, offer shelter from the weather or control energy costs — or all of these things at once. We custom make many different kinds of awnings for many different clients, both commercial and residential. Let Carroll Awning serve you.