Posted on Friday, March 6th, 2015 at 9:59 pm.
When your business starts booming and outgrowing your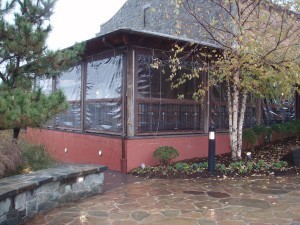 small space, you might find yourself in a bit of a predicament. Construction is costly. It impedes the flow of business, doesn't attract customers, and generally creates a big mess. What can you do? Roll up curtains are the perfect solution to your problem. Adding roll up curtains to your restaurant is much simpler than expanding your physical structure, and less stressful than finding a new space to lease or buy.
All season expansion
The number one benefit of adding roll up curtains to your restaurant is that it adds space. More space means more tables. More tables mean more customers. More customers mean more money. This simple equation makes great business sense. Patios are a wonderful way to extend your space, but in many climates, they are only useful on days when the sun isn't to hot, the air isn't too cold, and the wind isn't blowing too ferociously. Roll up curtains offer you the same cover and structure of real walls, but are much cheaper and much more flexible.
During chilly months, your customers will have a shield from the winter freeze. Heaters will bring in the warmth, curtains will keep the warmth in, and vinyl windows will allow the natural light and beauty of winter to continue to dazzle your customers.
When summer rolls around, you'll be so grateful for your roll up curtains. Crippling heat paired with intense humidity is an unpleasant setting for a meal. With a roll up curtain, you, your employees, and your customers will have a much-needed shade from outdoors that will make any meal a delight.
Low-maintenance
When you install a roll up curtain, you aren't dealing with regular walls. You may think that they are clunky and lack style, but in reality, they are much better. Roll up curtains are simple to keep clean, and are highly customizable. Depending on your budget, needs, and restaurant atmosphere, you can choose to have your roll up curtain open manually or by remote.  If you want to let in a little extra fresh air for your customers, you simply need to push a button, and up they will roll.
Call Carroll Awning Today!
Carroll Awning provides the best quality awnings and frames for any business or restaurant, as well as homes and apartments, for any time of the year.  For a free estimate, call 1-800-999-5617 or click here to contact us online.