Posted on Wednesday, October 9th, 2013 at 3:29 pm.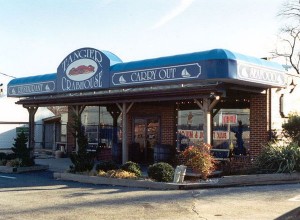 Are you searching for ways to bring more foot traffic to your commercial business? You can attract more consumers to your business with commercial awnings.
Carroll Awning Company is here to help you reap the benefit of business awnings with our custom awning solutions.
There are so many ways businesses can reap benefits from awnings. How can you take advantage of commercial awnings?
Primarily the custom awnings will enhance the curb appeal of your business to offer you a unique way to brand your business. You can get as creative as possible with patterns, colors; Carroll Awning Company can put your business logo on every awning.
Best of all, you'll lower the cost of your business operations because awnings are designed to reduce energy cost while increasing property protection.
Rests assure we will properly design and install your awnings to offer you the best energy savings for your business.
Our awnings will save you money on energy expenses because we design awnings to block sunrays and reduce the solar gain your business building receives daily. This will help you cool down your building for hot days but also retain warmth during cold days.
With our custom commercial awnings, you will increase the attractiveness of your business and add more commercial space that will give onlookers the impression your business made major renovations. When consumers get the impression that a business is doing well through upkeep, they are more likely to believe you'll provide excellent customer service.
Let us enhance your business architecture to lure in potential customers, it doesn't matter if you have a commercial office, restaurant or retail business… we are ready to create awnings just for you.
Custom awnings can be installed for commercial windows, doorways, decks, and patios. For window awnings we recommend using fabric awnings to reduce heat gain as much as possible.
We will create awnings that focus on your personal taste of style, venting and color scheme to save you the most money.
Use custom awnings to display business promotions, provide shade, and enhance your overall business appearance.
Have a look at our custom commercial awnings to see how Carroll Awning can attract consumers to your business and increase your company's community recognition.
Carroll Awning Company has unmatched qualities on awnings and stylish awning frames for both residential and business purposes.
We offer any type of retractable awnings you may need, from freestanding canopies to compact domes. Choose fabrics in stripes, solids or patterns. All are suited for UV resistance.
Through our combined locations and experience, Carroll Awning Company provides innovative craftsmanship, superb service, competitive pricing and unfailing attention to details in order to deliver a product that exceeds expectations.
Call for a FREE on-site estimate at 1-800-999-5617 or click here today!
Check us out on Facebook and Twitter as well!
Source:
http://www.canvascraftinc.com/blog/how-can-my-business-benefit-from-awnings/
http://www.annasawning.com/benefits.htm