Posted on Sunday, September 22nd, 2013 at 8:54 pm.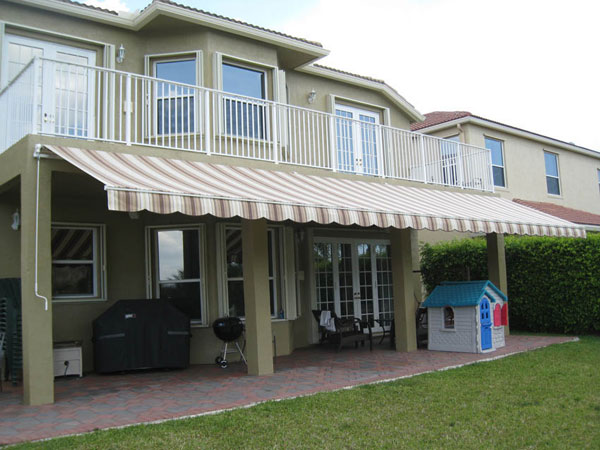 Are you planning outdoor gatherings throughout the Fall season?
Then it's time to invest in residential awnings for your property, particularly a retractable awning for your patio.
Retractable awnings come with a variety of great benefits.
For retractable awnings can protect you and your party guests protection from dangerous UV rays that make is vulnerable anytime we are in direct sunlight for an extended period of time.
Retractable awnings can be attached to your the side of your home anytime you are ready to enjoy the great outdoors.
You won't have to worry about the safety of your guests because here at Carroll Awning Company we use the highest quality material to design custom awnings that are secure and offer great shade.
Retractable awnings are very flexible because these awnings feature acrylic cloth and canvas.
Retractable awnings are retractable with material that make retracting easy such as wood, vinyl and metal.
When you purchase a retractable awning for your patio, you can use it in the following ways:
– Use custom images, patterns and colors to complement  your patio gardens and overall patio decor.
– You can have gatherings rain or shine.
– You can enhance your curb appeal.
To put it simple, you cannot go wrong with Carroll Awning Company's retractable awnings.
If you have a deck rather than a patio, you can still reap the benefits from a retractable awning.
With a retractable awnings you can enjoy fresh air, grilled food and great company on deck.
You tell us what you want in a deck awning and we will design an awning you can be proud of for a lifetime.
All our awning products come with a warranty.
We will tailor the size of your awning to meet your deck needs.
Get starred on your awning project today.
You can learn more about our awning services now.
Carroll Awning Company has unmatched qualities on awnings and stylish awning frames for both residential and business purposes.
We offer any type of retractable awnings you may need, from freestanding canopies to compact domes. Choose fabrics in stripes, solids or patterns. All are suited for UV resistance.
Through our combined locations and experience, Carroll Awning Company provides innovative craftsmanship, superb service, competitive pricing and unfailing attention to details in order to deliver a product that exceeds expectations.
Call for a FREE on-site estimate at 1-800-999-5617 or click here today!
Check us out on Facebook and Twitter as well!
Source:
http://bestawnings.org/deck-awnings/
http://m.voices.yahoo.com/the-benefits-retractable-patio-awning-201804.html