Posted on Monday, July 7th, 2014 at 2:59 pm.
Are you looking for a way to keep your home cool this summer without having to blast the air conditioning? Air conditioning systems can be expensive to run, and on some days, it's not quite hot enough to justify running them, but nor is it cool enough to go without anything. That's where Carroll Awning steps in. If you want to save on energy and expenses this summer while still keeping comfortable, then an aluminum awning is for you.
Most people think of a traditional canvas awning when they think of awnings. Canvas awnings are, of course, a wonderful investment for your home and they too can contribute to lower energy expenditures. However, an aluminum awning is an option that homeowners should not overlook. Aluminum awnings have many benefits to them. For one thing, they can be custom designed by Carroll Awning Company to serve as a patio cover, a carport cover, or a porch cover depending on which area you select. Unlike canvas awnings, which are typically taken down and stored during the winter months, an aluminum awning is a permanent installation for your home. This means that it can add value to your property in the event you decide to sell. Aluminum awnings reflect light away from your windows and home, which in turn prevents the sun's rays from heating up your home and making it uncomfortable. An aluminum awning, as an investment piece, returns more than its fair share in cooling comfort, curb appeal, and home value.
Do you have questions about designing and installing an aluminum awning? Call on the experts at Carroll Awning Company today for more information!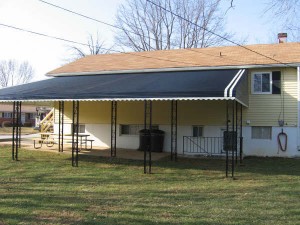 Carroll Awning Company has unmatched qualities on awnings and stylish awning frames for both residential and business purposes. Let Carroll Awning Company help you decorate your property with awnings and reduce your energy costs today. Retractable awnings will reduce heat loss during the cold months of winter and protect your property from heat gain during the hot days of summer.
We offer any type of awnings you may need, from freestanding canopies to compact domes. Choose fabrics in stripes, solids or patterns. All are suited for UV resistance.
Through our combined locations and experience, Carroll Awning Company provides innovative craftsmanship, superb service, competitive pricing and unfailing attention to details in order to deliver a product that exceeds expectations.
Call for a FREE on-site estimate at 1-800-999-5617 or click here today!