Window and Door Retractable Awnings
---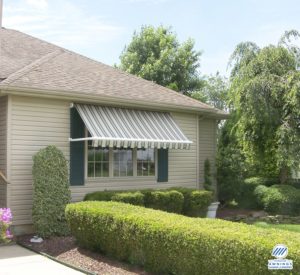 There is no doubt about the fact that window and door awnings provide homes with a distinctive feature that allows their homes to stand out beautifully in the neighborhood. In fact, the main benefit associated with window and door awnings is that they typically reduce the temperature in your home while simultaneously providing some much-needed shade along with sun protection so you can ultimately relax and thoroughly enjoy your outdoor space. For west-facing windows, having sun protection can often be quite crucial. The reality is, window and door awnings provide homeowners with the luxury of enjoying their homes without worrying about large amounts of sun peeking through and making the home much warmer than is comfortable.
Window Awnings For Your Home
For homeowners looking for ample shade and sun protection for their homes, window and door awnings can be a great home feature. With so many different window awnings to choose from, finding the right one for your home is easier than you think.
Cottage

Cottage awnings are one of our most popular window awnings sold. In fact, homeowners choose this type of awning for a number of different reasons but it's typically because of how they are designed — with a drop-arm retractable feature that allows your awning to be adjusted to any position.

Cottage Drop Shades

These types of awnings are made to provide sun protection by simply dropping down vertically.

Basket

Basket awnings are also popular and are designed with a ribbed, rounded, or traditional basket. As a result, they provide a great opportunity to dress up your windows and doors seamlessly while also providing the necessary sun protection homeowners desire.

Fixed Frame

Fixed frame awnings are made to provide homeowners with year-round sun protection for both windows as well as doors.