Posted on Wednesday, June 4th, 2014 at 6:29 pm.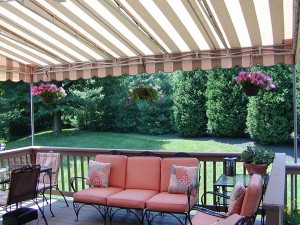 Are you putting up your home for sale or simply want to complete some Home Improvement Projects for added value? You may want to consider adding custom awnings to your residential property to increase your home value.
Awnings are architectural structures that can add significant value to any residential property. Custom awnings have a way of adding charm to any homestyle. You can have permanent awning structures installed to windows, doors,decks and patios or you can have custom canopies or retractable awnings designed for your property for great flexibility.
Awnings are great home improvement accessories because residential items help expand the outdoor usability while enhancing curb appeal. You add unlimited personality to your home by getting creative with your awning designs.
When starting a residential awning project, you should always hire a professional awning company like Carroll Awning Company to have the job well done. The last thing you need is  a faulty awning installation while completing home improvement projects. A professional awning company will make sure your awnings are properly mounted and save for usage.
By having awnings created for your home, you will save on your energy cost and improve the livability of the home. Windows awnings, Retractable Awnings and overall custom awnings are available for all residential property. You will have a choice on having manual or motorized awnings installed. No matter your selection, your selection, you will reap the benefits of a more efficient home. The extra convenience awnings provide will surely help your home stand out in all the right ways.
You will notice less insects and dust accumulation at your home property because awnings are designed to eliminate dust accumulation, while keeping pests outdoors.
Learn about Carroll Awning Company's custom awnings today to start planning out your next home improvement project. You won't regret it.
Carroll Awning Company is ready to help you transform your dream outdoor design to reality. Have a look at our retractable awnings, residential awnings and canopies today to see what we can do for your outdoor space.
Carroll Awning Company has unmatched qualities on awnings and stylish awning frames for both residential and business purposes. Let Carroll Awning Company  help you decorate your property with awnings and reduce your energy costs today. Retractable awnings will reduce heat loss during the cold months of winter and protect your property from heat gain during the hot days of summer.
We offer any type of  awnings you may need, from freestanding canopies to compact domes. Choose fabrics in stripes, solids or patterns. All are suited for UV resistance.
Through our combined locations and experience, Carroll Awning Company provides innovative craftsmanship, superb service, competitive pricing and unfailing attention to details in order to deliver a product that exceeds expectations.
Call for a FREE on-site estimate at 1-800-999-5617 or click here today!
Check us out on Facebook and Twitter as well!
Source:
http://www.parasolawnings.com/content2.php?content_id=84