Posted on Tuesday, May 27th, 2014 at 3:30 pm.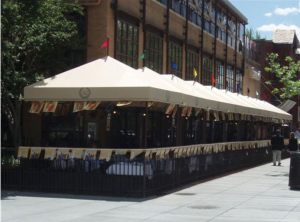 Are you eager to use your outdoor eating area this summer? Before you can host those fun summer parties, you need to make sure your eating area is very comfortable and offers plenty of shade.
No one wants to spend hours and hours under the hot sun during summer parties. This is especially true when one is eating. People want to have the option to sit in the shade, relax and  enjoy good food and company. You can offer party guests great protection from harmful sun rays and inclement weather by having custom canopies created for your outdoor eating area.
Not only will you have a comfortable eating area, you will also reduce your likelihood of having your summer BBQs ruined by a rain out because canopies are make for reliable shelters.
You can truly expand your outdoor living space with custom canopies while getting very creative with your decorative style. You can have images, script as well as patterns on your canopies. You can also get creative with the colors used on your outdoor canopies.
Once your outdoor canopies are designed and install, you can add patio furniture, such as ergonomic chairs and tables. Layout a dining area,  cooking space and storage space for the best usability of your new outdoor space.
Add a backyard garden and have a custom pool built; you're ready to party. All you will need from there is fresh lemonade, cocktails and a wonderful surround sound entertainment system.
Carroll Awning Company is ready to help you transform your dream outdoor design to reality. Have a look at our retractable awnings, residential awnings and canopies today to see what we can do for your outdoor space.
Carroll Awning Company has unmatched qualities on awnings and stylish awning frames for both residential and business purposes. Let Carroll Awning Company  help you decorate your property with awnings and reduce your energy costs today. Retractable awnings will reduce heat loss during the cold months of winter and protect your property from heat gain during the hot days of summer.
We offer any type of  awnings you may need, from freestanding canopies to compact domes. Choose fabrics in stripes, solids or patterns. All are suited for UV resistance.
Through our combined locations and experience, Carroll Awning Company provides innovative craftsmanship, superb service, competitive pricing and unfailing attention to details in order to deliver a product that exceeds expectations.
Call for a FREE on-site estimate at 1-800-999-5617 or click here today!
Check us out on Facebook and Twitter as well!
Source:
http://www.ehow.com/how_6388921_decorate-outdoor-canopy.html
http://freshome.com/2011/08/16/30-outdoor-canopy-beds-ideas-for-a-romantic-summer/