Posted on Wednesday, September 3rd, 2014 at 5:35 pm.
It may be hard to believe, what with this last heat wave of summer hitting us this week, but fall is right around the corner. With it will come cooler temperatures, which might be a welcome change for some, but for business owners who have outdoor seating as a part of their property, this can also pose a few problems. Outdoor seating areas expand your customer capacity potential and are a great option for customers who want to be seated with a scenic view, but when the mercury drops, people are less likely to want to utilize this space. What's a business owner to do? Consider roll-up curtains from Carroll Awning Company!
Roll-up Curtains Expand your Outdoor Seating Options
Roll-up curtains can be the perfect addition to your restaurant, café, or shop. When you add a perimeter of roll-up curtains around your outdoor seating area, you are able to use that space in a wider variety of weather conditions. If it is cooler and breezy, roll-up curtains will keep your customers snug and safe inside. If it is drizzling, they'll stay dry and comfortable, while still being able to benefit from a seating option other than the interior of your establishment. With roll-up curtains, you will be able to seat as many people as you would in warmer weather; no need to stuff customers in to a cramped interior or worse, send them away because you have no space. With roll-up curtains will come more customers, and with more customers, more profit potential!
Roll-up curtains are the perfect addition to your outdoor seating space this fall. Ready to talk about your options? Call the Carroll Awning Company today for more information!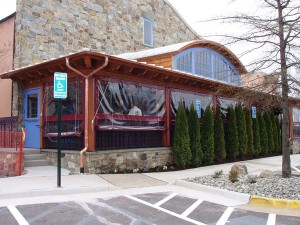 Carroll Awning Company has unmatched qualities on awnings and stylish awning frames for both residential and business purposes. Let Carroll Awning Company help you decorate your property with awnings and reduce your energy costs today. Retractable awnings will reduce heat loss during the cold months of winter and protect your property from heat gain during the hot days of summer.
We offer any type of awnings you may need, from freestanding canopies to compact domes. Choose fabrics in stripes, solids or patterns. All are suited for UV resistance.
Through our combined locations and experience, Carroll Awning Company provides innovative craftsmanship, superb service, competitive pricing and unfailing attention to details in order to deliver a product that exceeds expectations.
Call for a FREE on-site estimate at 1-800-999-5617 or click here today!