Posted on Tuesday, August 26th, 2014 at 8:30 pm.
No matter how luxurious and well-outfitted the inside of your hotel is, if the outside does not match it, it is going to end up being less appealing to potential guests. If you are looking to improve your hotel façade's appearance and attract more clients, one of the best ways to do this is by adding a high-quality awning to your hotel entrance!
 Add an Awning to your Hotel Entrance
The addition of an awning can make a huge difference when it comes to your hotel's appeal. An awning over the entryway to your main lobby or reception area gives the entire space an air of professional elegance, a major point of attraction for most hotel guests. You can order a customized awning to have the name or logo of your hotel printed on the outward facing panel as well, lending it an extra bit of flair.
Awnings also serve a number of practical applications for your hotel as well. For instance, when guests arrive, they will be able to unpack their cars under the shade and protection of the awning. This way, their luggage will stay safe and undamaged and their process of checking in will be made much easier, even on rainy or hot days. An awning will also shade your entryway's windows, keeping the lobby cool throughout the day.
In order to improve the appearance of your hotel's façade and attract a larger number of clients, you can employ simple methods that yield major results. Invest in an awning for your entryway, and see the difference it makes for your hotel!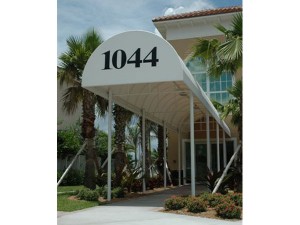 Carroll Awning Company has unmatched qualities on awnings and stylish awning frames for both residential and business purposes. Let Carroll Awning Company help you decorate your property with awnings and reduce your energy costs today. Retractable awnings will reduce heat loss during the cold months of winter and protect your property from heat gain during the hot days of summer.
We offer any type of awnings you may need, from freestanding canopies to compact domes. Choose fabrics in stripes, solids or patterns. All are suited for UV resistance.
Through our combined locations and experience, Carroll Awning Company provides innovative craftsmanship, superb service, competitive pricing and unfailing attention to details in order to deliver a product that exceeds expectations.
Call for a FREE on-site estimate at 1-800-999-5617 or click here today!