Posted on Friday, May 24th, 2019 at 11:01 am.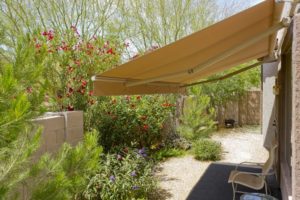 Awnings can be a great addition to anyone's home. Primarily, the role of an awning is to protect a building from excess heat and intense sunlight during the summer season. Finding the right fabric for your residential awning can be a challenge. You will want one that is durable and functions properly, but you also want it to have some style that makes it feel like a natural piece to your home instead of an addition that looks like it was just thrown together. Awnings today can be crafted from all sorts of high-tech materials and come in many different styles to complement any home. But no matter what style you choose, you can be sure that it will offer the most sun protection, fade resistance, and durability. There are a few factors to contemplate when deciding on which residential awning will be best for you. Here are a few things to consider when you are selecting the material for your residential awning.
Evaluate Shade Factors
One of the main purposes of an awning is to provide shade to your windows and exterior spaces. However, not all awnings offer the same amount of shade, so when you are selecting fabric for your residential awning, you will want to pick a product with a high shade factor. The higher the shade factor, the more protection from the sun you'll have, letting you enjoy the beauty of summer without the blinding light and sweltering heat the sun can cause.
Ask About Weather Resistance
When you invest in a new residential awning, you want to be sure they last as long as possible. A common concern with preserving the life of an awning is the impact the weather can have on it. While your awning is fending off the sun's harsh rays, it also has to endure the rest of Mother Nature's onslaught of weather conditions. If you want your awning to last, you are going to want it to be weather-resistant. A weather-resistant awning is better-suited to endure wind, rain, snow, and other harsh weather conditions. As an added bonus, weather-resistant awning material will usually be protected from mold and mildew as well.
Look At Different Colors And Patterns
Your awning can do more than provide you with cooling shade during the brutal heat of summer. It can also be fashionable, adding a little extra spice to your home. There is an abundance of colors from which to choose, giving you the power to customize your residential awning however you think will give your home the most appeal. There are plenty of patterns you can view as well, giving you seemingly-limitless possibilities for customizing your awning.
Let Caroll Architectural Shade Protect Your Home
Carroll Architectural Shade manufactures and installs custom shade, awning, and canopy structures that will turn your current design from conventional to extraordinary. Located in Baltimore Maryland, we service the Maryland, DC, and Northern Virginia regions. Our highly skilled craftsmen design and manufacture custom shade products in house, including commercial awnings, residential awnings, retractable awnings, roll-up curtains, aluminum awnings, metal seam awnings, tensile structures, and flat metal canopies. Over the years, we have adapted our services to incorporate the best technology and manufacturing processes. With our automated fabric cutting machine, we are now able to offer a more accurate, higher quality product than any other company!

Contact us today by clicking here and follow us on Facebook, Twitter, Linkedin, and Pinterest.