Posted on Monday, June 23rd, 2014 at 6:02 pm.
Carroll Awning Company knows that the best way to personalize your home or business is by installing our custom awnings. Awnings add more than just shade and value to a building, they add an accent piece that turns people's heads and make your property something special. So when considering how to best accentuate your home, take a look at this list of design styles to determine which will work best for you.
Shed Awning
One of the most common awning styles, this awning is not just, as the name would suggest, restricted for use above sheds. It features a steep slope that ends at a smaller section perpendicular to the ground. It is very functional and ideal for shading areas of patios or porches.
Bullnose Awning
More popular for commercial uses, bullnose awnings are semi-polygonal in shape, so they end up closely resembling half of an umbrella. Much more decorative in nature, a bullnose awning can add special flair to your storefront.
Quarter Round Awning
A quarter round awning has a curved surface so that from a side view, it looks like half of a semicircle. Because of the curved shape, quarter round awnings are excellent at repelling rainwater.
Concave Awning
A concave awning looks a lot like a shed awning, except in its case, the main panel is sloped inwards. That slight curve makes concave awnings look a little more unique than their counterparts, and so it could be just the touch you need to elevate your home's appearance.
Arch Canopy Awning
An arch canopy awning, from the front view, most closely resembles a semi circle. With the wide front panel facing outward, an arch canopy awning is perfect for business's who want their name, logo, or street address displayed for all to see.
"A" Frame Awning
Similar to the arch canopy, except an "A" frame awning's peak meets at a point instead of an arch. It still boasts a front panel for printed text, however, and lends a distinctly professional look to any doorway.
Click here to check out our visual renderings of these awning designs.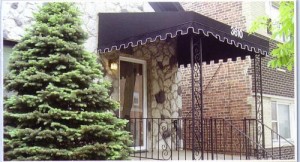 Carroll Awning Company has unmatched qualities on awnings and stylish awning frames for both residential and business purposes. Let Carroll Awning Company help you decorate your property with awnings and reduce your energy costs today. Retractable awnings will reduce heat loss during the cold months of winter and protect your property from heat gain during the hot days of summer.
We offer any type of awnings you may need, from freestanding canopies to compact domes. Choose fabrics in stripes, solids or patterns. All are suited for UV resistance.
Through our combined locations and experience, Carroll Awning Company provides innovative craftsmanship, superb service, competitive pricing and unfailing attention to details in order to deliver a product that exceeds expectations.
Call for a FREE on-site estimate at 1-800-999-5617 or click here today!