Posted on Monday, June 16th, 2014 at 7:09 pm.
Outdoor seating is a must-have in many situations. When the weather is warm, why not utilize your restaurant's extra seating space or your home's stylish patio? However, in some situations, having your seating area open and exposed to the air can present a few problems. Luckily, Carroll Awning Company's custom roll up curtains can be the solution.
If you are a business owner who needs to make use of any extra seating to help with crowd overflow, than an outdoor seating area is key. But what if it rains, or is unseasonably cool out? What if a strong wind kicks up? Using roll up curtains that can be customized to be rolled by hand, by pulleys, or motorized, can block out the elements while still providing natural light to your customers; this way, they're saved from a soaking and you're saved on seating space!
Roll up curtains are also essential at closing time. Rather than having to drag in and store dozens of chairs and tables, rolling down your curtains will keep your property secure and keep you from having to spend time after hours and again in the morning setting up your outdoor seating area.
At home, a residential awning can be spruced up with the addition of roll up curtains, and they provide many of the same benefits as commercial ones do. Keep your family barbeque cozy and dry even if a summer drizzle starts, and secure your patio furniture without taking up room in the storage shed.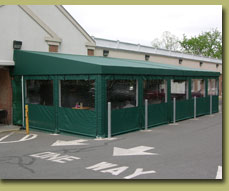 Carroll Awning Company has unmatched qualities on awnings and stylish awning frames for both residential and business purposes. Let Carroll Awning Company  help you decorate your property with awnings and reduce your energy costs today. Retractable awnings will reduce heat loss during the cold months of winter and protect your property from heat gain during the hot days of summer.
We offer any type of  awnings you may need, from freestanding canopies to compact domes. Choose fabrics in stripes, solids or patterns. All are suited for UV resistance.
Through our combined locations and experience, Carroll Awning Company provides innovative craftsmanship, superb service, competitive pricing and unfailing attention to details in order to deliver a product that exceeds expectations.
Call for a FREE on-site estimate at 1-800-999-5617 or click here today!