Posted on Friday, November 16th, 2012 at 7:23 pm.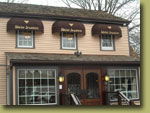 It's time for holiday shopping and installing or replacing awnings to a commercial property can make for a wonderful holiday gift.
Your friend or family member may have awnings or entrance canopies of his or her business may have suffered from wear and tear over the years. They may not think much about it but first impressions mean everything to a business.
Look around the business property to see where a face lift may be necessary. Replacing awning fabric can give a quick face lift that will enhance the business' look to potential customers and loyal customers alike. It can also improve the business' functionality.
If the gift receive prefers to keep with the same style fabric, we can make the perfect awnings or canopies to fit the original profile of the building.
We can also help pick a new and improved color pattern, if a more modern look is necessary.
Here at Carroll Awning Company, we have the tools and creativity to remove your awning fabric to do repairs or install completely brand new awnings are canopies.
New awning fabric at an affordable price is what we guarantee. Class and quality is what we stand for. We want your business to stand for the same with our superb awnings and canopies.
Carroll Awning Company has unmatched qualities on awnings and stylish awning frames for both residential and business purposes.
We offer any type of retractable awnings you may need, from freestanding canopies to compact domes. Choose fabrics in stripes, solids or patterns. All are suited for UV resistance.
Through our combined locations and experience, Carroll Awning Company provides innovative craftsmanship, superb service, competitive pricing and unfailing attention to details in order to deliver a product that exceeds expectations.
For more information on commercial awnings  and canopies as well as free quotation, call Carroll Awning at 1-800-999-5617 or click here today!