Posted on Wednesday, November 21st, 2012 at 5:34 pm.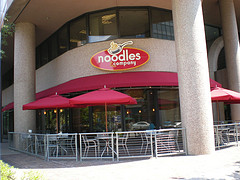 The Thanksgiving holiday marks the start of the biggest holiday season. It's Thanksgiving Sales. It's Black Friday. It's Small Business Saturday. And Christmas will be here in no time. It's time to spiffy up your curb appeal with the expansion of your revenue areas. The more space your commercial business has for potential customers and loyal customers, the more profit you'll business will make during the holiday season and beyond.
You can do this with commercial awnings and canopies.
Outdoors spaces are known to increase business revenues. With added shelter and beauty, you can attract more customers, especially with shade structures for restaurant and bars. Customers love to enjoy holiday celebrations at these locations.
Carroll Awning can custom design your awnings and canopies and logos can be added to them.
They are great for business because they provide a welcoming entrance and additional space to your commercial business. Not to mention, your customers and employees can benefit from the weather protection these fixtures provide.
Carroll Awning Company has unmatched qualities on awnings and stylish awning frames for both residential and business purposes.
We offer any type of retractable awnings you may need, from freestanding canopies to compact domes. Choose fabrics in stripes, solids or patterns. All are suited for UV resistance.
Through our combined locations and experience, Carroll Awning Company provides innovative craftsmanship, superb service, competitive pricing and unfailing attention to details in order to deliver a product that exceeds expectations.
For more information on commercial awnings  and canopies as well as free quotation, call Carroll Awning at 1-800-999-5617 or click here today!
Check us out on Facebook and Twitter as well!