Posted on Friday, February 28th, 2014 at 4:30 pm.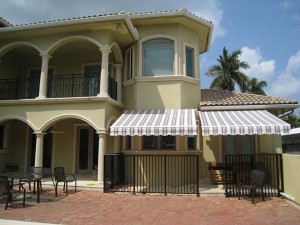 Are you searching for a home addition that will help you better enjoy your outdoor space in the spring and summer? You can set up the perfect outdoor entertainment area by using awnings. Awnings are low maintenance structures you can use for a variety of outdoor living applications. In fact residential awnings have a way of stepping up the wow factor of homes that feature decks and patios because residential awnings offer additional comfort to outdoor living. If you can see yourself relaxing and entertaining guests all spring and summer, you will want to design an outdoor living space that's just as comfortable as your home interior.
With the right layout, you can enjoy breakfasts, BBQs and drinks right under your awnings. If you want great flexibility for your outdoor living space, have retractable awnings installed to give you the best flexibility for outdoor entertainment all year round. Retractable awnings can offer you full control over how much sun you want for your entertainment area and shield your party guests and family from rain and wind. Remember, the goal is to establish a wonderful comfort zone.
Carroll Awning Company can help you expand your outdoor living space any way you want it with custom awnings. We can tailor your retractable awnings to fit your exact personal style. Select your awning fabric. Tell us where you want your retractable awnings.
We understand the important of entertaining guests in a comfortable outdoor living space. We will provide the shade with custom designed retractable awnings. All you have to do is set up your patio furniture and other outdoor living accessories.
If you are ready to get your outdoor entertainment area in order, hire Carroll Awning Company to get the job done right.
Carroll Awning Company has unmatched qualities on awnings and stylish awning frames for both residential and business purposes. Let Carroll Awning Company  help you decorate your property with awnings and reduce your energy costs today. Retractable awnings will reduce heat loss during the cold months of winter and protect your property from heat gain during the hot days of summer.
We offer any type of patio awnings you may need, from freestanding canopies to compact domes. Choose fabrics in stripes, solids or patterns. All are suited for UV resistance.
Through our combined locations and experience, Carroll Awning Company provides innovative craftsmanship, superb service, competitive pricing and unfailing attention to details in order to deliver a product that exceeds expectations.
Call for a FREE on-site estimate at 1-800-999-5617 or click here today!
Check s out on Facebook and Twitter as well!
Source:
http://homes.ninemsn.com.au/outdoor/outdoorliving/8360067/all-decked-out-how-to-set-up-the-perfect-outdoor-entertaining-area