Posted on Thursday, February 20th, 2014 at 7:11 pm.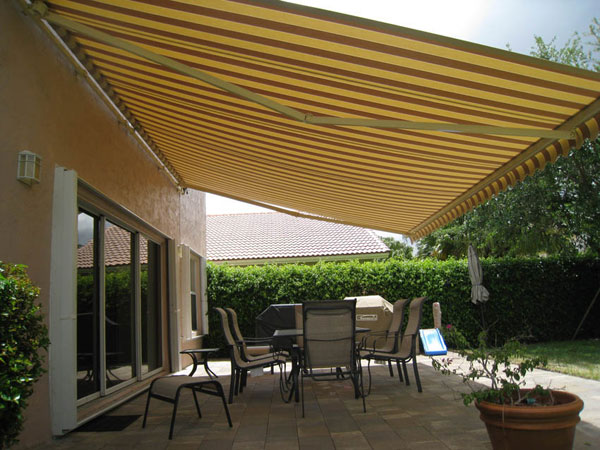 Spring will soon be with us and more consumers will be out and about enjoying the weather and great sales. To make sure your business catches the eyes of consumers, it is time to do some business maintenance. You can attract prospective customers to your business with commercial awnings.
Commercial awnings can do wonders for a business storefront. Commercial awnings are available as window awnings, door awnings, and patio awnings.
With commercial awnings you can provide your business additional comfort and hospitality by sprucing up the attractiveness of your business storefront. The great thing about commercial awnings: The awnings can be fully customized to meet your business appearance needs. In fact, business awnings can fully capture your business personality by featuring your company logo, brand colors and any other business preferences you have in mind.
And the benefits of commercial awnings go beyond beauty; commercial awnings can help you save on your business energy bill because commercial awnings offer shade to naturally cool down your commercial property. This is especially true of window awnings.
Add great curb appeal to your commercial business with commercial awnings today and your business leads will increase in the spring.
We recommend commercial retractable awnings for the best awning functionality for your commercial property. Commercial retractable awnings are perfect additions to restaurants, luxury apartment homes, offices and industrial facilities.
For custom commercial window awnings, door awnings, commercial retractable awnings and other high quality awning products, hire Carroll Awning Company.
Carroll Awning Company has unmatched qualities on awnings and stylish awning frames for both residential and business purposes. Let Carroll Awning Company  help you decorate your property with awnings and reduce your energy costs today. Retractable awnings will reduce heat loss during the cold months of winter and protect your property from heat gain during the hot days of summer.
We offer any type of patio awnings you may need, from freestanding canopies to compact domes. Choose fabrics in stripes, solids or patterns. All are suited for UV resistance.
Through our combined locations and experience, Carroll Awning Company provides innovative craftsmanship, superb service, competitive pricing and unfailing attention to details in order to deliver a product that exceeds expectations.
Call for a FREE on-site estimate at 1-800-999-5617 or click here today!
Check s out on Facebook and Twitter as well!
Source:
http://www.perfectionarch.com/aluminum-walkway-cover/
http://www.aristocratawnings.com/awnings/awnings-for-business/