Posted on Saturday, December 21st, 2013 at 3:26 am.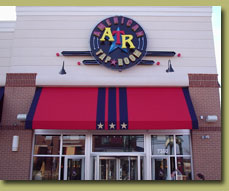 Are you searching for ways to make your property more compelling to consumers? Are you worried that the enhancement will be costly?
You can make your property more attractive by have commercial awnings installed.
Commercial awnings have historically brought more liveliness to streetscapes and assist business owners in more sales generation by adding extra commercial beautification.
Beyond aesthetics, commercial awnings can also reduce business operational cost because the awning design can help with building climate control.
How can commercial awnings assist with business climate control?
Commercial awnings can protect your building from harsh UV rays while still shining through plenty of natural light into your business.
What type of awning designs are available for commercial businesses?
The options are unlimited. Here are some popular awning design choices:
– Stripe awning fabrics
– Custom business logos and lettering
-Ornate valances
You can have custom commercial awnings installed for your business  so you can have peace of mind that you have what you've been looking for.
With high quality awnings you will never have to experience excessive heat gain, glare or expensive central air utility expenses again.
Carroll Awning Company is here to create and install awnings that truly let your storefront sell your business professionalism.
We can provide you custom window awnings, door awnings and other custom awning designs such as retractable awnings. Our custom awnings are available to meet any type of configurations and business awning styles.
We can customize  the shape, size, framing and fabric of your commercial awnings with state-of-the-art awning technology .
We can even offer you awning maintenance service.
What are the benefits if awning maintenance?
You'll be able to increase the usability of your property because you'll have the opportunity to use more of your outdoor living space. You will also have more control of your energy cost and usage. That means more money in your pocket and less solar gain.
How can you beat that?
Carroll Awning Company has unmatched qualities on awnings and stylish awning frames for both residential and business purposes.
We offer any type of patio awnings you may need, from freestanding canopies to compact domes. Choose fabrics in stripes, solids or patterns. All are suited for UV resistance.
Through our combined locations and experience, Carroll Awning Company provides innovative craftsmanship, superb service, competitive pricing and unfailing attention to details in order to deliver a product that exceeds expectations.
Call for a FREE on-site estimate at 1-800-999-5617 or click here today!
Check s out on Facebook and Twitter as well!
Source:
http://www.canvascraftinc.com/blog/awning-maintenance-tips/
http://www.nps.gov/tps/how-to-preserve/briefs/44-awnings.htm