Posted on Wednesday, July 10th, 2013 at 1:09 pm.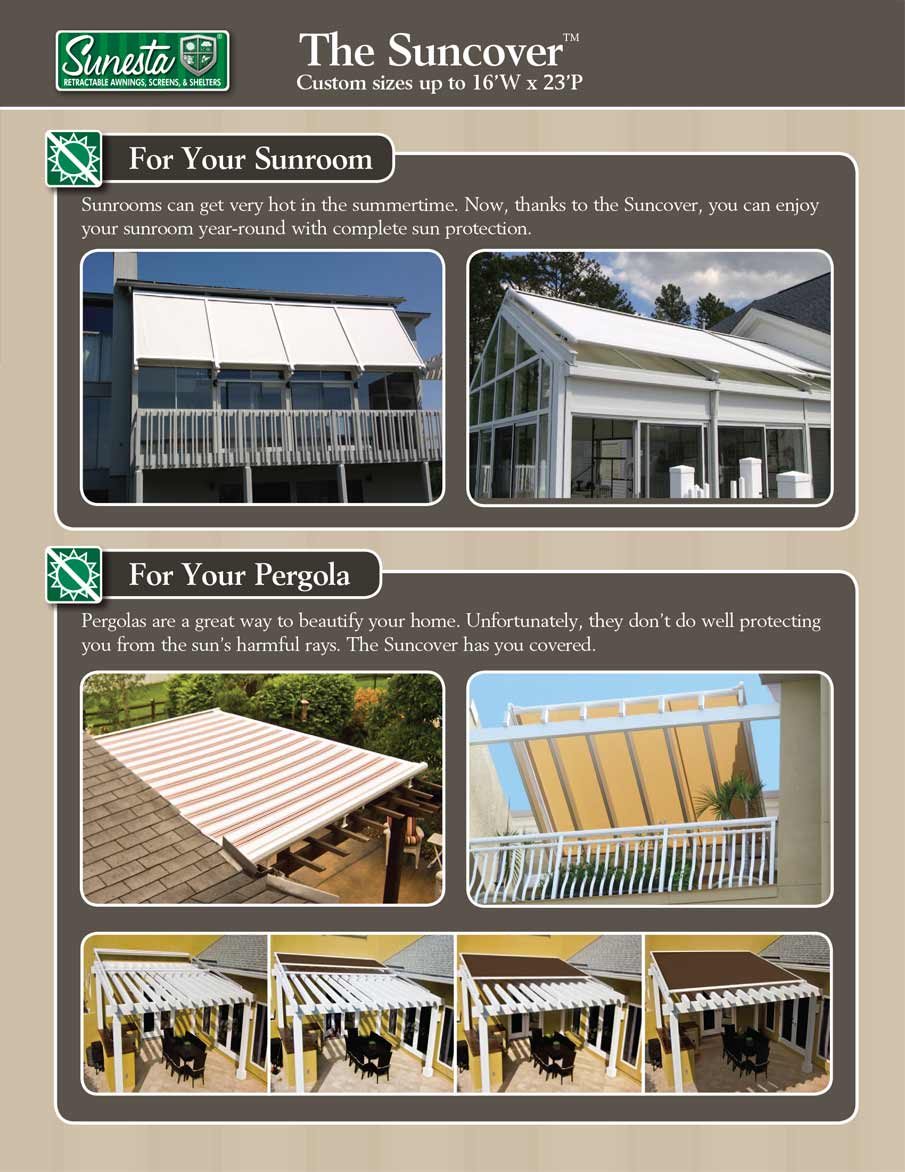 Are you tired of sweating and roasting in your sunroom or under your pergola? Is too much sunlight coming through your skylights?
Carroll Awning Company is here to provide you sun protection and shade by installing suncovers to your sunrooms, pergola and skylights.
Suncovers are uniquely designed to make installation to existing rails of a structure a breeze. There's no mounting necessary to attach our suncovers to any wall surface.
As a retractable system, the Suncover can provide benefits such as:
-Providing quality sun protection
-Shielding you from rain or other inclement weather conditions
-Carroll Awning Company can install your Suncover as a standalone or mounted fixture on your existing structures.
-The fabrics used on the Suncover are waterproof fabrics that can feature decorative solar screens.
-All suncovers are custom made to fit your desire space or pre-existing structures.
-The Suncover includes built in gutters.
The Suncover does not only provide summertime benefits, it is designed to provide complete sun protection all year long.
Let our Carroll Awning Company suncovers protect you from harmful sunrays and provide you shade shelter 365 days a year.
Suncovers must haves for:
-Playgrounds
-Pool decks
-Pools
-Outdoor dining
-And any type of backyard or outdoor space.
If you want to have sun protection from harmful UV rays 95% of the time, it's time to invest in suncovers.
Carroll Awning Company is dedicated to designing well-made awnings for our customers.
Check out our suncovers today.
Let Carroll Awning Company help you design a cost-effective solution for your home or business today.
Call for a FREE on-site estimate at 1-800-999-5617 or click here today!
Check us out on Facebook and Twitter as well!
Source:
http://www.sunesta.com/media/56649/sell_sheet-suncover-sunplus-web.pdf
http://www.shadesystemsinc.com/
http://shadewingcanopy.com/sun-cover-shade-shelter-reviews-best-sun-covers-shelters/