Posted on Monday, July 15th, 2013 at 6:52 pm.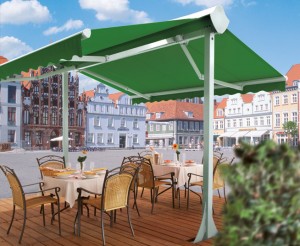 Do you own a restaurant? Have your clients been complaining about your outdoor seating having inadequate shade and protection from the elements?
If yes, the heat wave this week won't make them any happier. You may lose customers to your competitors if you don't address the issue now.
Don't worry. There's an affordable solution to beating the heat. You can have shadespots installed for your outdoors seating area.
What are shadespots?
Shadespots are freestanding shelters where restaurant patrons can enjoy food and beverages outdoors while being protected from the elements. The shadespot freestanding shelter from Carroll Awning will protect your restaurant patrons from UV rays, rain, uncomfortable wind gusts and more.
We install shadespots for patios, decks, outdoor cafes, break areas and other restaurant sceneries.
The freestanding awning can offer up to 600 square feet of shade anywhere to create a comfortable and stylish oasis.
Our shadespots are facility and awning TUV tested approved and can include the following optional features:
-Wireless remote controls and auto sensors
-Front bar drop valance for sun protection
-And base/ upright mounting options.
Not only will you provide a comfortable outdoor area for your customers but you will also make your restaurant greener/ more environmentally sustainable.
People prefer environmentally friendly products and services more than ever.
Green design will also reduce your energy costs so you can put your money elsewhere to expand your business.
You'll keep your customers coming back for more by providing quality light, air and open space.
Attract new customers to your restaurant with our visually pleasing awnings.
Let Carroll Awning Company help you design a cost-effective solution for your home or business today.
Call for a FREE on-site estimate at 1-800-999-5617 or click here today!
Check us out on Facebook and Twitter as well!
Source:
http://www.sunesta.com/products/shelters/shadespot.aspx
http://www.bernards.org/green%20team/Document/Green%20Planning/Green%20Element%20Master%20Plan.pdf