Posted on Wednesday, December 4th, 2013 at 2:33 pm.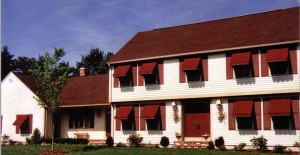 Are you on a tight budget for the holidays but still want to display your holiday cheer? You can. There are affordable ways to setup eye catching holiday decorations without burning a hole in your wallet. You can start creating a spectacular holiday display by having residential awnings installed. The best awning installations for holiday decoration setups are window awnings, door awnings and patio awnings.
What types of holiday decorations are safe to put on awnings? You can put just about any holiday decoration on your awnings. The most common decoration used on awnings is strings of holiday lights. String lights will provide you the opportunity to illuminate your home for the holidays or help you enhance the curb appeal of your home for themed parties. You may even want to add string lights to your awnings to simply add style and a splash of color to your home exterior design. We recommend using white and green lights for winter holidays. The best holiday light strings are tricolor décor. No matter what type of string lights you use for your holiday decorations, hang the lights along the edges of your awnings for the best visibility and appeal.
Be aware of the fire risks and injuries that commonly occur during the holidays. The last thing you need or want is a home fire caused from holiday decoration malfunctions. Once you go over fire safety best practices for holiday decorations, you can get really creative with light sculptures. Yes, lightweight light sculptures can be added onto your awnings.
Don't forget to decorate your home fence, trees and shrubs. Net lights are the best for quickly and easily covering trees and shrubs for the holidays.
Let us here at Carroll Awning Company make your holiday decorations becoming the talk of the town in the best way possible. Have a look at our residential awnings and retractable awnings to see what we can do for you this holiday season. We design and manufacture all type of custom awnings for residential properties as well as commercial properties.
Carroll Awning Company has unmatched qualities on awnings and stylish awning frames for both residential and business purposes.
We offer any type of patio awnings you may need, from freestanding canopies to compact domes. Choose fabrics in stripes, solids or patterns. All are suited for UV resistance.
Through our combined locations and experience, Carroll Awning Company provides innovative craftsmanship, superb service, competitive pricing and unfailing attention to details in order to deliver a product that exceeds expectations.
Call for a FREE on-site estimate at 1-800-999-5617 or click here today!
Check s out on Facebook and Twitter as well!
Source:
http://www.ehow.com/list_7215748_awning-string-light-ideas.html
http://www.redbeacon.com/hg/10-steps-best-neighborhood-holiday-decorations/