Posted on Monday, November 25th, 2013 at 6:44 pm.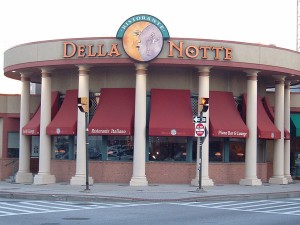 This Thanksgiving week will be a very busy week for both consumers and business owners alike. If you want to yield big sales this Thanksgiving and Black Friday, you need to identify a way for your business to stand out and shine more than your business competitors. How can you enhance the curb appeal of your commercial business in a fast and cost effective way? You can have window awnings installed.
Having window awnings installed for your business is the perfect way to make a statement and attract more business patrons this holiday season.
Window awnings will instantly enhance the exterior appearance of your commercial building no matter how large or small it may be. To really stand out for holiday shoppers, try to use a touch of color or really bold coloring for your window awnings. You can have a holiday awning design, use your company colors or have your company logo displayed on top of a bold color. Nothing makes window awnings look absolutely beautiful as having a porch awning to complement the overall exterior design.
Having new window awnings installed to your storefront will have your business be the talk of the town in all the right ways. The color and positivism you add to the lives of shoppers in the area, the more prosperous your business will be this holiday season.
If you are worried about having permanent awnings on your commercial building, you can always have retractable awnings installed. Here are the benefits you can reap from having retractable awning installations completed:
You can have your window awnings easily adjusted.
You can protect your windows from the harsh weather elements of heavy rain/ snow and harmful UV rays.
You will always have the opportunity to change up your awning fabrics for holidays, company events, and other festivities.
Best of all Carroll Awning Company can cover any awning maintenance you will need over the years. Yes, that means performing awning repairs such as cigarette burns or awning fabric tears.
Take a look at our commercial awning and patio covers today to see what we can do for your business. We are your one-shop-stop for awnings and awning maintenance.
Carroll Awning Company has unmatched qualities on awnings and stylish awning frames for both residential and business purposes.
We offer any type of patio awnings you may need, from freestanding canopies to compact domes. Choose fabrics in stripes, solids or patterns. All are suited for UV resistance.
Through our combined locations and experience, Carroll Awning Company provides innovative craftsmanship, superb service, competitive pricing and unfailing attention to details in order to deliver a product that exceeds expectations.
Call for a FREE on-site estimate at 1-800-999-5617 or click here today!
Check s out on Facebook and Twitter as well!
Source:
http://www.sunbrella.com/blog/index.php/awning/window-awnings-that-make-a-statement/
http://www.probuilder.com/solair-comfort-retractable-awning
http://www.awningcleaningsandiego.com/awning-repair-awning-cleaning/awning-repair-cigarette-burns/