Posted on Sunday, March 31st, 2013 at 8:46 pm.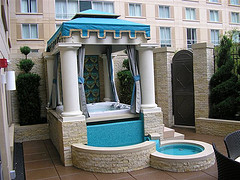 Are you redesigning a beach front home? If yes, retractable awnings can truly create a stylish, relaxing outdoor environment for your beach front.
Window awnings, door awnings and Sunesta Sun Screens for patios do not only add elegance to beach front home but also provide a welcoming atmosphere for guests and home owners alike.
With retractable awnings, you can make visitors to your beach front home feel extremely welcomed even before opening the door to a beach front condo.
With retractable awnings, you and your guests can enjoy  exceptional spring and summer weather. You can enjoy beautiful sunrises and sunsets as you relax underneath  your residential awnings.
Take in the sound of the waves from your beach home balcony.
Awnings are the perfect home accessories.
Carroll Awning Company can design custom retractable awnings and screens for your beach front home today.
Retractable awnings are light weight, simplistic in design for quick and easy home improvement projects.
Carroll Awning Company has unmatched qualities on awnings and stylish awning frames for both residential and business purposes.
We offer any type of retractable awnings you may need, from freestanding canopies to compact domes. Choose fabrics in stripes, solids or patterns. All are suited for UV resistance.
Through our combined locations and experience, Carroll Awning Company provides innovative craftsmanship, superb service, competitive pricing and unfailing attention to details in order to deliver a product that exceeds expectations.
For more information on Retractable Awnings,  Sunesta Screens and a free quotation call Carroll Awning at 1-800-999-5617 or click here today!
Check us out on Facebook and Twitter as well!
Source: http://www.awningtime.com/
http://www.homeaway.com/vacation-rental/p3520668