Posted on Tuesday, July 22nd, 2014 at 3:44 pm.
Summer is the perfect time to invite over all of your friends to enjoy the beautiful weather, good company, and classic summer treats such as watermelon, corn-on-the-cob, and barbeque. Whether you're planning a backyard cookout, a pool party, or an afternoon of iced tea and conversation, you're going to want to set up an area for guests that keeps them comfortable and happy. Take it one step further than the standard patio furniture and think of what a custom awning could do to transform your outdoor entertaining area.
With a custom awning from Carroll Awning Company, you can determine every detail of the design of your outdoor entertaining area. You could opt to cover your entire patio so that guests are always cool and comfy in the shade, or you could have a smaller awning installed so that there are both shaded and sunlit portions for them to enjoy.
An awning just might save the party in the event of a sudden summer rain. Guests are protected from the downpour while still benefitting from the fresh air, and once the rain passes, the party can move back out onto the lawn if necessary.
Create a unique outdoor entertaining space under your awning. If you're planning on hosting cocktail parties, tall tables coupled with bar stools could make for a truly special outdoor space. Or if you're thinking of more family-style entertaining, a table large enough for the whole group of you and plenty of fun accessories (such as printed placemats and colored silverware) can be the perfect place to host a get-together.
Do you have more questions about creating an outdoor entertaining space with an awning? Call Carroll Awning Company today for more tips!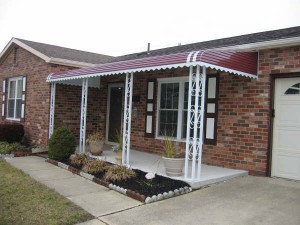 Carroll Awning Company has unmatched qualities on awnings and stylish awning frames for both residential and business purposes. Let Carroll Awning Company help you decorate your property with awnings and reduce your energy costs today. Retractable awnings will reduce heat loss during the cold months of winter and protect your property from heat gain during the hot days of summer.
We offer any type of awnings you may need, from freestanding canopies to compact domes. Choose fabrics in stripes, solids or patterns. All are suited for UV resistance.
Through our combined locations and experience, Carroll Awning Company provides innovative craftsmanship, superb service, competitive pricing and unfailing attention to details in order to deliver a product that exceeds expectations.
Call for a FREE on-site estimate at 1-800-999-5617 or click here today!