Posted on Wednesday, July 30th, 2014 at 5:29 pm.
It can be hard for your business to stand out when it is just one building in a row of a flat, colorless strip mall or shopping center. Even if you have a prime location, you'll need an extra special something to attract customers' eyes to your door. One detail that will show off just how unique you and your company are is a custom storefront awning from Carroll Awning Company!
A proud member of the Professional Awning Manufacturers Association, Carroll Awning Company has years of experience providing businesses of all shapes, sizes, and types with high quality storefront awnings to enhance their façade and attract more customers. A custom awning lends your building a sophisticated, polished look that is much more inviting than a plain, lifeless storefront. Your awning can perform multiple functions as well; not only will it improve the appearance of your storefront, but it can also serve as free advertisement. Your awning can be custom printed with your company name, logo, and contact information so that even people driving by will take note and remember your business for their future needs.
A sturdy, custom storefront awning will stay looking like new throughout the seasons and can be a solid investment to make in your company's future. Are you trying to attract new customers and to be the best-looking business on the street? Then a custom storefront awning from Carroll Awning Company could be just the thing you are looking for. Call us today for more information- we provide awnings to businesses in the Maryland, Virginia, and Washington D.C. areas.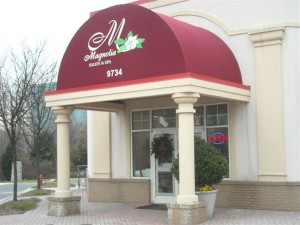 Carroll Awning Company has unmatched qualities on awnings and stylish awning frames for both residential and business purposes. Let Carroll Awning Company help you decorate your property with awnings and reduce your energy costs today. Retractable awnings will reduce heat loss during the cold months of winter and protect your property from heat gain during the hot days of summer.
We offer any type of awnings you may need, from freestanding canopies to compact domes. Choose fabrics in stripes, solids or patterns. All are suited for UV resistance.
Through our combined locations and experience, Carroll Awning Company provides innovative craftsmanship, superb service, competitive pricing and unfailing attention to details in order to deliver a product that exceeds expectations.
Call for a FREE on-site estimate at 1-800-999-5617 or click here today!