Posted on Tuesday, August 12th, 2014 at 6:08 pm.
While your custom canvas awning is made to be durable and to withstand the elements, there are still a few things that can happen to it outdoors. If you live in a particularly rainy or humid environment, chances are that your awning might become the home of a patch or two of moss! Moss loves and thrives on damp environments, and because you cannot prevent the rain from falling, your other option is to remove moss growths yourself. Carroll Awning Company is here to tell you how to do so without damaging your residential awning.
In order to clean moss off of your awning, start by brushing the surface with a dust broom or full-sized broom to loosen as much of the moss as possible without proceeding to the next step. This will also help you get rid of dust and dirt that has collected on your awning, making it a part of your normal cleaning routine.
Next, to really tackle the moss, use an oxygen bleach mixture and spray it directly on to the moss. Using a soft scrub brush, use a circular scrubbing motion to remove the moss. You should do this both on the top and underside of the awning, as moss can grow on either side easily. Once you have thoroughly removed all of the moss, rinse your residential awning with water, preferably using a spray gun attachment on your hose. A stronger jet of water will be sure to rinse out all of the oxygen bleach and prevent streaking or staining.
Your residential awning can last you for years and years if properly looked after. For more tips on how to take care of your awning, check back in with Carroll Awning Company!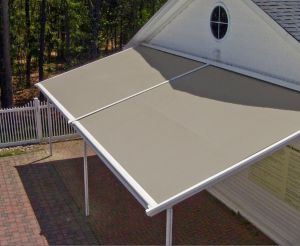 Carroll Awning Company has unmatched qualities on awnings and stylish awning frames for both residential and business purposes. Let Carroll Awning Company help you decorate your property with awnings and reduce your energy costs today. Retractable awnings will reduce heat loss during the cold months of winter and protect your property from heat gain during the hot days of summer.
We offer any type of awnings you may need, from freestanding canopies to compact domes. Choose fabrics in stripes, solids or patterns. All are suited for UV resistance.
Through our combined locations and experience, Carroll Awning Company provides innovative craftsmanship, superb service, competitive pricing and unfailing attention to details in order to deliver a product that exceeds expectations.
Call for a FREE on-site estimate at 1-800-999-5617 or click here today!
Check us out on Facebook and Twitter as well!
Source:
http://www.ehow.com/how_5705825_clean-moss-canvas-awnings.html