Posted on Tuesday, August 19th, 2014 at 1:39 pm.
When it comes to selecting the right awning for your home, you have a myriad of options from which to choose. One factor that you will want to consider is how much you want to be able to customize the amount of shade that you and your home receive from your awning. Some days, you might want a little more sunlight, whereas others, you might feel like creating a full, shady oasis in your yard. No matter what you prefer, or how often you change your mind, a retractable awning can offer you everything you could want!
Carroll Awning Company carries the full line of Sunesta retractable awnings, including the Sunstyle, Sunlight, and Sundrop options. Retractable awnings are among the most practical of your awning choices; because you are able to change the projection of your awning yourself, you control which area is shaded and which receives sunlight. Not only are you able to meet your personal shade specifications, but an awning of any variety also adds beauty and home value to your property- a tough combination to beat!
Your retractable awning is a practical choice because it is well-suited to the different seasons. In summer, utilize the full length of the projection and benefit from the shade, and in colder months, retract it fully until spring time.
You can customize your awning to fit your home's style and palette. Select from a wide variety of colors, edging styles, and patterns to pick the retractable awning that's right for you!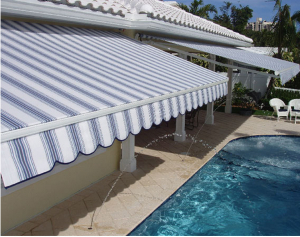 Carroll Awning Company has unmatched qualities on awnings and stylish awning frames for both residential and business purposes. Let Carroll Awning Company help you decorate your property with awnings and reduce your energy costs today. Retractable awnings will reduce heat loss during the cold months of winter and protect your property from heat gain during the hot days of summer.
We offer any type of awnings you may need, from freestanding canopies to compact domes. Choose fabrics in stripes, solids or patterns. All are suited for UV resistance.
Through our combined locations and experience, Carroll Awning Company provides innovative craftsmanship, superb service, competitive pricing and unfailing attention to details in order to deliver a product that exceeds expectations.
Call for a FREE on-site estimate at 1-800-999-5617 or click here today!