Posted on Thursday, April 25th, 2013 at 8:33 pm.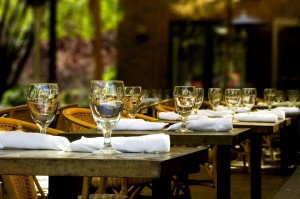 Are you planning a wine tasting fundraiser party this spring or summer? If yes, you'll be happy to know that you can create a lovely outdoor wine-tasting area with Sunesta screen rolls.
Wine tasting fundraiser parties are great events for raising money for organization and sharing good times with friends and family.
Here are great wines you can serve in a comfortable space created within the Sunesta screen roll:
Cabernet
Pinot Noir
Chardonnay
Sauvignon Blanc
Viognier
Bread, cheese and fruit go wonderful with wines. Wines should be selected based on the type of theme you want to promote during your wine tasting fundraiser. Some great wine country themes you can consider are Napa, Spain, France and Italy.
You may want to hire a winery to assist you in your wine tasting setup. Wine can be poured as you have discussions on the history of wine.
Sunesta screen rolls can provide patrons plenty of shade and fresh air as they enjoy the wine tasting functions and overlook a garden or stunning landscape.
Sunesta screen rolls will provide patrons total vertical sun control for any type of covered outdoor space. Carroll Awning is prepared to fit any unique outdoor space with widths up to 24' and heights up to 12'.
Learn about our Sunesta screen rolls today.
Carroll Awning Company has unmatched qualities on awnings and stylish awning frames for both residential and business purposes.
We offer any type of retractable awnings you may need, from freestanding canopies to compact domes. Choose fabrics in stripes, solids or patterns. All are suited for UV resistance.
Through our combined locations and experience, Carroll Awning Company provides innovative craftsmanship, superb service, competitive pricing and unfailing attention to details in order to deliver a product that exceeds expectations.
For more information on Retractable Awnings, Sunesta Screens and a free quotation call Carroll Awning at 1-800-999-5617 or click here today!
Check us out on Facebook and Twitter as well!
Source: http://www.wineloverspage.com/party.shtml
http://www.ehow.com/how_2246392_hold-wine-tasting-fundraiser-event.html
http://www.tripadvisor.com/LocationPhotoDirectLink-g32997-i58184821-Rutherford_Napa_Valley_California.html