Posted on Sunday, February 17th, 2013 at 12:55 am.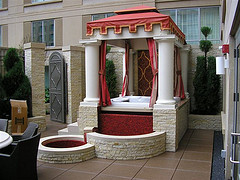 Looking for ways to beat the heat and block out sun rays this Spring? If yes, you can with door/window awnings and awning accessories from Carroll Awning Company.
This article will discuss how door awnings and window awnings can improve your home's energy efficiency and protection your living space.
Carroll Awning Company has outstanding selections of aluminum window awnings,aluminum patio awnings, aluminum door awnings and fabric window awnings to keep your home in style and provide you with great shade.
Window and door awnings are wonderful for homes because they are practical, unique and elegant home fixtures. The awnings will protect your home interior and furniture from harmful rays as well as save you on your energy bill. Awnings can reduce solar heat gain by 77% and lower the home's internal temperature by 15 degrees.
Carroll Awning Company Sunesta window awnings and door awnings are custom made to add amazing architectural beauty and outdoor/indoor comfort to your home.
Let Carroll Awning help you make a stunning statement for your home exterior today with our Sunesta window awnings and door awnings .
Carroll Awning Company has unmatched qualities on awnings and stylish awning frames for both residential and business purposes.
We offer any type of retractable awnings you may need, from freestanding canopies to compact domes. Choose fabrics in stripes, solids or patterns. All are suited for UV resistance.
Through our combined locations and experience, Carroll Awning Company provides innovative craftsmanship, superb service, competitive pricing and unfailing attention to details in order to deliver a product that exceeds expectations.
For more information on Sunesta awnings (as well as a free quotation) call Carroll Awning at 1-800-999-5617 or click here today!
Source: 
http://www.greatdayimprovements.com/window-door-awnings.aspx
http://www.nuimageawnings.com/