Posted on Friday, March 14th, 2014 at 7:21 pm.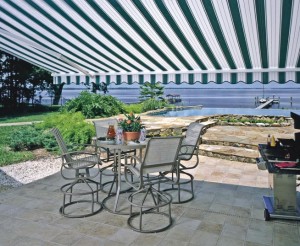 Are you interested in having professionally designed backyard awnings installed for your home? We have some great residential awning design ideas to share with you to help you select  a great residential awning design just in time for spring.
What is so great about backyard awnings?
The answer is plenty. Backyard awnings are colorful and cheerful additions to any size residential property. The residential awnings can assist you in expanding your outdoor living space so you can  enjoy more backyard entertainment, relaxation and family time.
It doesn't matter whether its raining , sunny or hot outside, backyard awnings will have you covered. This type of residential awning is designed to give you shelter without sacrificing landscape views or comfort.
There are so many awning styles to choose from. If you cannot find what you are looking for in a residential awning, you can always request a custom awning design from your Baltimore awning manufacturer.
Some of the best backyard awnings are freestanding awnings and retractable awnings. Freestanding awnings are in popular demand because the awnings allow homeowners to reposition the awnings anywhere in the backyard at anytime. Retractable awnings are also desirable because the residential awnings can be remotely controlled and operated by homeowners at any given time. The retractable awnings can also extend and retract when necessary.
To get started on your perfect backyard awning placement today, take a look at our residential awnings/ retractable awnings at Carroll Awning Company.
By using backyard awnings, you can enjoy outdoor dining or even create your very own outdoor family room. With our Carroll Awning Company designs, you can  enhance your curb appeal while properly filtering out harmful UV rays. Awnings are truly some of the best shade coverings on the market – yard, deck, or patio, you will receive  excellent shade coverage.
Carroll Awning Company has unmatched qualities on awnings and stylish awning frames for both residential and business purposes. Let Carroll Awning Company  help you decorate your property with awnings and reduce your energy costs today. Retractable awnings will reduce heat loss during the cold months of winter and protect your property from heat gain during the hot days of summer.
We offer any type of patio awnings you may need, from freestanding canopies to compact domes. Choose fabrics in stripes, solids or patterns. All are suited for UV resistance.
Through our combined locations and experience, Carroll Awning Company provides innovative craftsmanship, superb service, competitive pricing and unfailing attention to details in order to deliver a product that exceeds expectations.
Call for a FREE on-site estimate at 1-800-999-5617 or click here today!
Check s out on Facebook and Twitter as well!
Source:
http://homeguides.sfgate.com/backyard-awning-ideas-95327.html
http://www.weekendgardener.net/gardeningdesign/awnings-covers-umbrellas-061006.htm