Posted on Friday, March 21st, 2014 at 7:43 pm.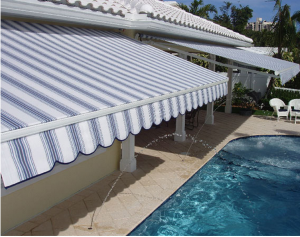 Do you have pre-existing retractable awnings at your home or place of business? Do you notice that your retractable awnings are looking a bit dull? It might time for you to replace the valance of your awning fabric. When one replaces an aging valance off a retractable awning, it can help your awning look fresher and cleaner just in time for spring and summer weather.
Often the valance appears dull because it has been too exposed to harsh weather elements such a wind, rain, snow and sun rays. The exposure can make the valance quickly age.
Where is the awning valance located?
When you are inspecting your awning, you can located the valance flap at the awning bar. On a standard awning, the valance is usually 7 feet above the pavement and it can project out 4 to 7 feet away from a residential or commercial property. Now custom awnings are available and you can decide how far you prefer your valance to project out.
The valance can be replaced on any kind of awning – window awnings and  door awnings. You can have custom valances for your awnings that offer the light and display you desire for your property.
Once your valances are replaced on your awnings, keep your awnings clean for aesthetic appeal or marketing purposes. Your awnings will only serve you as well as you can maintain the structures. Consult with a professional awning company like Carroll Awning Company for the best results.
Carroll Awning Company has unmatched qualities on awnings and stylish awning frames for both residential and business purposes. Let Carroll Awning Company  help you decorate your property with awnings and reduce your energy costs today. Retractable awnings will reduce heat loss during the cold months of winter and protect your property from heat gain during the hot days of summer.
We offer any type of patio awnings you may need, from freestanding canopies to compact domes. Choose fabrics in stripes, solids or patterns. All are suited for UV resistance.
Through our combined locations and experience, Carroll Awning Company provides innovative craftsmanship, superb service, competitive pricing and unfailing attention to details in order to deliver a product that exceeds expectations.
Call for a FREE on-site estimate at 1-800-999-5617 or click here today!
Check s out on Facebook and Twitter as well!
Source:
http://www.retractableawningreview.com/133/fraying-valance/
http://www.dca.state.ga.us/development/planningqualitygrowth/programs/downloads/resourceTeams/boston/BostonDMainStreet2.pdf