Posted on Friday, January 31st, 2014 at 8:41 pm.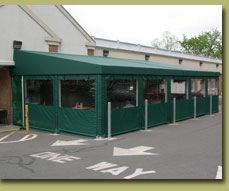 Are you searching for ways to open up the floor space of your residential or commercial property? Then it's time to make an investment towards roll up curtains.
Roll up curtains provide so many great benefits to residential and commercial business owners. For one the roll up curtains can help you keep your property cleaner while opening up your floor space as much as you desire.
Roll up curtains can help you establish effective separation indoors as well as outdoors for your residential or commercial property. When you want to save up your floor space, simply roll up your curtains. When you want to open up/ expand your floor plan, you can do it in a matter of minutes.
Here are every day benefits you can reap from roll up curtains:
You won't have to waste funds on building permanent walls to your pre-existing structure when you need to separate your floor plan. You won't need to knock down walls to provide your building more floor space.
You will reap the benefits of low maintenance building upkeep by using roll up curtains because the curtains stay clean for longer periods of time than walls and other separation fixtures.
You can use roll up curtains to separate home as well as work tasks by modifying the layout of your home or work environments.
Roll up curtains can protect your from dangerous UV radiation.
You can use roll up curtains to complete drapes and traditional curtains in your home or commercial business.
Carroll Awning Company can easily install roll up curtains for your home or commercial property at any time. We can customize your roll up curtains and ensure they are lightweight for your convenience. You just have to let us know what is your custom fit for your roll up curtains. We are ready to style up your property and improve the functionality of your home or business today.
Carroll Awning Company has unmatched qualities on awnings and stylish awning frames for both residential and business purposes.
We offer any type of patio awnings you may need, from freestanding canopies to compact domes. Choose fabrics in stripes, solids or patterns. All are suited for UV resistance.
Through our combined locations and experience, Carroll Awning Company provides innovative craftsmanship, superb service, competitive pricing and unfailing attention to details in order to deliver a product that exceeds expectations.
Call for a FREE on-site estimate at 1-800-999-5617 or click here today!
Check s out on Facebook and Twitter as well!
Source:
http://www.goffscurtainwalls.com/curtain-walls/roll-curtains