Posted on Friday, February 7th, 2014 at 3:01 pm.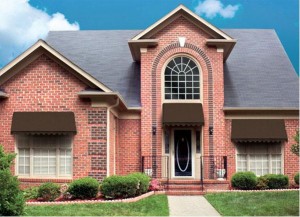 Are you contemplating whether you should purchase awnings for your commercial business or home property? This article may make your decision much easier by telling you about the awesome benefits you can reap from commercial awnings and residential awnings.
We have 5 weeks left of winter, but that should not make you neglect your property maintenance. Having awning installations completed before spring can help you enhance the curb appeal of your property just in time for enjoying warm weather.
Commercial awnings and residential awnings alike  can help you entertain guests and still find some personal time to relax outdoors and enjoy the sunshine.
Awnings are not only beautiful property features but awnings are also great for adding extra shade to your property and additional space for business and personal usage.
As we know, warm weather brings us outside but we put ourselves at risk of extreme exposure to harmful UV lights. You can protect yourself and guests from the hot sun rays with awnings because awnings are designed to enhance the comfort level of people and animals alike outdoors.
You can have retractable awnings installed for patios, porches and decks. You can window awnings and door awnings installed to shield yourself and guests from heavy rain fall or scorching sun rays.
You can reap these awesome functional benefits while still beautifying your property with custom awning designs.
Here are some great awning features you can enjoy today:
More usage of your outdoor living space to increase your enjoyment of your business or home property, no matter rain or shine.

You can use or store your awnings at anytime. When you don't need to use your awnings, you don't have to use your awnings. When you want  more sunshine,  all you need  is  a retractable awning.

Your outdoor furniture will always be protected with the use of awnings. Yes, that includes proper moisture control and protection from sunlight furniture fade.

You will keep your building cooler because the awnings will help you with sunlight control.
Let Carroll Awning Company  help you decorate your property with awnings and reduce your energy costs today. Retractable awnings will reduce heat loss during the cold months of winter and protect your property from heat gain during the hot days of summer.
Carroll Awning Company can easily install roll up curtains for your home or commercial property at any time. We can customize your roll up curtains and ensure they are lightweight for your convenience. You just have to let us know what is your custom fit for your roll up curtains. We are ready to style up your property and improve the functionality of your home or business today.
Carroll Awning Company has unmatched qualities on awnings and stylish awning frames for both residential and business purposes.
We offer any type of patio awnings you may need, from freestanding canopies to compact domes. Choose fabrics in stripes, solids or patterns. All are suited for UV resistance.
Through our combined locations and experience, Carroll Awning Company provides innovative craftsmanship, superb service, competitive pricing and unfailing attention to details in order to deliver a product that exceeds expectations.
Call for a FREE on-site estimate at 1-800-999-5617 or click here today!
Check s out on Facebook and Twitter as well!
Source:
http://www.harryhelmet.com/blog/2014/01/17/6-awesome-things-about-awnings/
http://energy.gov/energysaver/articles/energy-efficient-window-treatments