Posted on Thursday, July 25th, 2019 at 9:33 am.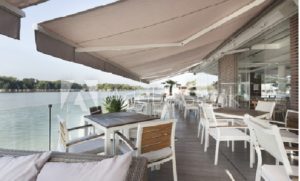 If you're a homeowner who is looking for an affordable means of giving extra curb appeal to your home or just looking for a way to reduce the amount of sunlight that hits your home, you might want to consider a residential aluminum awning. They provide you with shade to protect against the sun and can protect your window and siding from all sorts of debris and rain. There are plenty of reasons you should invest in a residential aluminum awning now.
Durable
Aluminum is resilient and can hold its own against the forces of nature. If you live in an area with hazardous weather conditions like strong wind, rain, snow, or heat, a residential aluminum awning will help keep you safe. They don't suffer from bowing, stretching, or warping so they will last for a long while. If you perform maintenance regularly, an aluminum awning can last around 50 years if not more.
Affordable
A residential aluminum awning is more affordable than their metal counterparts, ensuring you have a cost-effective means of keeping your home safe. You can even get your awning in a smaller size or more traditional shape if you want to cut down on costs even more.
Flexible
You can get a residential aluminum awning in many different colors. This lets you decide which color is best to complement the exterior of your home. As an added plus, aluminum awnings can have a traditional or modern style, giving you even more choices for design.
Low-Maintenance
One of the more convenient features of a residential aluminum awning is that it doesn't need much maintenance to keep it in optimal condition. The only maintenance you'll need to perform regularly is to spray the awning down with a hose to get rid of any dirt buildup that gathered on the surface. As long as you do this, your awning will be in peak form for many years.
Energy-Efficient
If you install a residential aluminum awning, you not only give more curb appeal to your home, but you also cut down on how much energy you consume. Awnings absorb some heat emitted from the sun. This keeps your home's interior cooler, making you less dependent on air conditioning. Areas that are protected by an aluminum awning are around 20% cooler than without them.
Contact Carroll Architectural Shade Today
Through our combined locations in Baltimore, Maryland and Washington, D.C., Carroll Architectural Shade provides innovative craftsmanship, superb service, competitive pricing, and unfailing attention to detail for customers throughout Maryland and Virginia.
Our highly skilled craftsmen design and custom manufacture shade products in house, including commercial awnings, residential awnings, retractable awnings, roll up curtains, aluminum awnings, and flat metal canopies. Founded in 1958 by James Carroll Sr., and still family-owned by his sons today, Carroll Architectural Shade remains committed to delivering top quality craftsmanship and service.

Visit our website to see how we can serve you, and follow us on Facebook, Twitter, Linkedin, Pinterest.