Posted on Friday, August 2nd, 2019 at 10:03 am.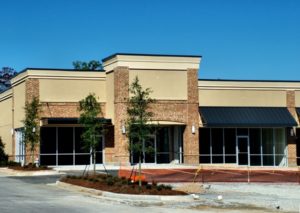 Running a business involves a lot of decision making. If your business or building has outdoor space, this includes having to decide how to use that space. Will it be a place for your employees to relax or a place to serve customers? However you use it, you want the area to be functional and comfortable. You also want the space to be beautiful and maintain the aesthetic of the rest of your building. Luckily, a commercial retractable awning can do all of that and more.

Comfort
This is the biggest reason most people decide to put up awnings. The people outside, usually your customers or guests, need to have a comfortable place to sit, protected from sun and rain. When you choose a retractable awning, you provide that comfort when needed, but you also reserve the ability to retract the awning and open the space up to the sky when you want to.

Durability
A commercial retractable awning is designed and built to stand up to daily use for years. All parts of the awning are made from top quality materials, including the fabric of the awning and the mechanical parts of the motor. They also come with the warranties that will give you peace of mind knowing that your investment will last. 

Protection
Awnings can provide UV protection for anyone who is using the outdoor space around your building. This will help make the space more functional since the people sitting out there will be protected even in harsh sunlight or rain. It will also protect the furniture that you have outside from fading in the sun or from getting too hot and burning people when they touch it. Awnings can also protect people and stuff inside the building. They reduce the glare of the sun outside the windows, and they also protect the furnishings inside from the damage of UV rays coming in the windows.

Energy Savings
Installing a commercial retractable awning can save you money when it comes to cooling your building. This is because they block much of the heat from the direct rays of the sun, without blocking all of the natural light that you want to allow in. Since the sun won't be directly baking your building, you may find you don't need to crank the AC up as much.

Beauty
Commercial grade retractable awnings add to the beauty of your building. They come in a variety of styles and colors to meet your aesthetic desires. They won't take away from the spacious feel and ambiance of your outdoor space, and if you do find you want to be able to see the sky, you can always retract them.
CONTACT CARROLL ARCHITECTURAL SHADE TODAY
Through our combined locations in Baltimore, Maryland and Washington, D.C., Carroll Architectural Shade provides innovative craftsmanship, superb service, competitive pricing, and unfailing attention to detail for customers throughout Maryland and Virginia.
Our highly skilled craftsmen design and custom manufacture shade products in house, including commercial awnings, residential awnings, retractable awnings, roll up curtains, aluminum awnings, and flat metal canopies. Founded in 1958 by James Carroll Sr., and still family-owned by his sons today, Carroll Architectural Shade remains committed to delivering top quality craftsmanship and service.
Visit our website to see how we can serve you, and follow us on Facebook, Twitter, Linkedin, Pinterest.