Posted on Friday, February 15th, 2019 at 12:58 pm.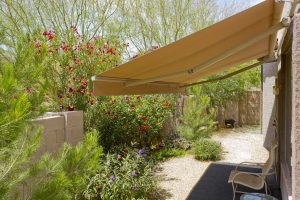 Your home is a sanctuary where you should feel the most comfortable and safe. There are a lot of features homeowners add to their houses to make them feel like a truly comfortable space. One element you can add to your home to improve its usefulness is a retractable awning. Retractable awnings are truly versatile and can greatly boost your enjoyment of your home.

It Saves Energy
In the hotter months of the year, your air conditioning costs can skyrocket so it makes sense to save energy wherever you can. You will likely still have to spend some money on air conditioning costs when you add a retractable awning to your home, but the awning will help you save on energy costs. Retractable awnings block the Sun's UV rays from hitting your home as directly as they would otherwise. Blocking these rays helps keep your home cooler and reduces the need for you to crank the air conditioning up too high.

It's Easy To Store
Retractable awnings are extremely convenient for homeowners because they can be stored easily. Unlike other awnings, retractable awnings can be put away simply by pushing a button. This is especially helpful during the winter when a homeowner might not want to run the risk of a large amount of snow gathering on the awning. If you have a fabric awning, you'll have to do the process of taking it down manually. You can easily pull your retractable awning in when the weather gets too bad.

It Can Add To Your Living Space
The inside of your home is not the only part of your property that you can enjoy. Installing a retractable awning can help you and your family enjoy more of your property. This is because retractable awnings protect you from the elements. You won't have to go inside simply because it's raining outside or because the temperatures outside are high. This means that you'll be able to enjoy the outdoors for more time out of the year than you usually would. With a retractable awning, you'll get more out of your property!
CONTACT CARROLL ARCHITECTURAL SHADE TODAY FOR YOUR RETRACTABLE AWNING!
Ready to get the perfect shade structure for your apartment building, business, or home? Carroll Architectural Shade (formerly known as Carroll Awning) has the expertise and equipment to make and install the perfect residential or commercial shade structure to give your home or business an even cooler exterior. We can design, create, and install custom canopies and awnings all year long. For a free estimate and to get started designing your dream awning, give us a call at 1-800-999-5617 or visit us online. To see examples of our work, follow us on Facebook, Twitter, Google+, and LinkedIn.