Posted on Friday, September 6th, 2013 at 11:48 am.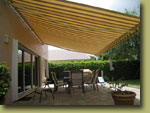 What are good reasons for buying a retractable awning?
If you want a versatile awning, you cannot go wrong with retractable awnings.
Retractable awnings are awnings that extend  as far as you desire because they have springs in their arms.
Anytime these awnings are not in use, you can simply  roll it up and store it conveniently.
We recommend storing retractable awnings when the awnings are not in use to best protect the awning fabric from harmful UV rays and inclement weather.
You can have retractable awnings created as an extension of your roofing, shade for your patio or a shelter for your driveway.
Here at Carroll Awning Company we use only the highest quality materials to produce are custom awnings.
We offer consultation services to help you find the best areas on your property for your  retractable awnings.
Carroll Awning Company  is 100% dedicated to providing our clients flawless awning products.
Yes this includes using acrylic fabrics to guarantee you retractable awnings to last for years to come.
You will not experience irreversible fading, mildew or rot.
It's best that you operate your retractable awnings during times you feel comfortable outside. It is not recommended that you use retractable awnings during severe weather storms.
The following are ways you can keep your retractable awnings looking and functioning at their best :
– Have your awnings cleaned at least twice a year. The more often you clean your awnings, the better they will look.
– For the best shade, use dark awning fabrics.
– Always use awnings that have galvanized steel for best lifetime usage.
– Have your fasteners maintenance and inspected yearly.
– Use retractable awnings for UV Ray protections.
Let Carroll Awning Company help you design a cost-effective solution for your home or business today.
Carroll Awning Company has unmatched qualities on awnings and stylish awning frames for both residential and business purposes.
We offer any type of retractable awnings you may need, from freestanding canopies to compact domes. Choose fabrics in stripes, solids or patterns. All are suited for UV resistance.
Through our combined locations and experience, Carroll Awning Company provides innovative craftsmanship, superb service, competitive pricing and unfailing attention to details in order to deliver a product that exceeds expectations.
Call for a FREE on-site estimate at 1-800-999-5617 or click here today!
Check us out on Facebook and Twitter as well!
Source:
http://www.bgawning.com/awning-faq/
http://www.perfecta-awnings.com/Faqs.html