Posted on Thursday, August 8th, 2019 at 2:03 pm.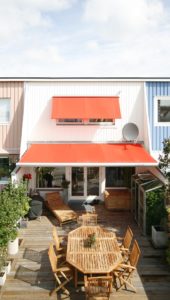 Your awning can be put through a lot of strain over time, helping to make your outdoor living experience as comfortable as possible. But eventually, you'll need to replace your awning and find something new. Here are some signs that should tell you it's time to replace your residential awning.
It Is Getting Old
Every item you buy for your home is expected to live for a certain amount of time. Most things you buy have a shorter life expectancy than you. A residential awning frame is often made from aluminum, so they last a long time. The first parts to fail will often be the moving parts and the motor, along with the fabric. Fabric lasts between 5 and 15 years on average. Whenever you replace fabric, choose a sturdier variant next time. You are usually able to replace the fabric without replacing the whole awning. However, your residential awning needs to be of high quality; otherwise, you will most likely be replacing other pieces after the fabric.
It Is Damaged
Weather can do significant harm to your home's exterior. You might see some wear and tear on your gutters and roofing. If you keep your residential awning up all winter, you could end up having branches on or in them by spring. Heavy snow can weigh down your awning, and persistent rainfall can do severe damage too, even causing mold. If you're able to add retractable awnings, consider doing that because it lets you tuck your awnings in when winter comes, keeping them safer.
It Is Very High-Maintenance
Non-retractable awnings are incredibly high-maintenance. They need more cleaning and repairs because they are exposed to the elements more often. This is why more people are opting for retractable awnings.
If you have difficulty moving, using a manual retractable awning can be tough. In that case, it might be more ideal to use a motorized retractable awning instead. These are easier on people who have limited mobility, and can even be opened before you step outside.
It Isn't Working In Your Space
If you ever expand your porch or patio, it's possible your current residential awning will look out of place. You want to make sure your awning covers what it needs to cover. If your residential awning isn't covering enough space, you may need to think about replacing it with one that offers proper shading.
Contact Carroll Architectural Shade Today
Through our combined locations in Baltimore, Maryland and Washington, D.C., Carroll Architectural Shade provides innovative craftsmanship, superb service, competitive pricing, and unfailing attention to detail for customers throughout Maryland and Virginia.
Our highly skilled craftsmen design and custom manufacture shade products in house, including commercial awnings, residential awnings, retractable awnings, roll up curtains, aluminum awnings, and flat metal canopies. Founded in 1958 by James Carroll Sr., and still family-owned by his sons today, Carroll Architectural Shade remains committed to delivering top quality craftsmanship and service.
Visit our website to see how we can serve you, and follow us on Facebook, Twitter, Linkedin, Pinterest.