Posted on Thursday, October 24th, 2013 at 8:03 pm.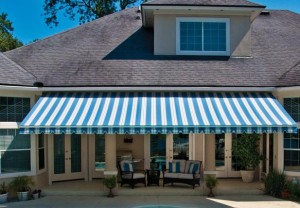 Are you trying to complete home improvements before winter? We don't blame you. Fall is the perfect time of the year for home improvements. It's a season where the weather is not too cold or too warm.
A great home improvement project you may want to consider this season is having custom design awning installations completed.
Custom awnings can help you improve your home curb appeal while expanding the usable space of your home. Any type of awning can be tailored as a custom design, without lowering its shelter and shade capabilities.
With custom design awnings you have control over the material used to create your awnings and whether your awnings are manually operated or automated. You will have the option to have galvanized frames or power coated frames to protect your awnings from the weather elements.
By having residential awnings installed for your home, you will protect your home from heat loss this winter while saving your home energy. You can also count on high quality awnings to shield your patio or deck from rain, hail, and high winds. You may want to consider having solar screening added to your awnings for extra protection against the weather elements (while you are at it).
Here are questions you will be asked prior to designing your custom awnings:
-What are the dimensions of the space where you want the awning installation completed?
-What materials do you want your custom awnings to be made of?
-What type of residential awning do you desire?
Carroll Awning Company has unmatched qualities on awnings and stylish awning frames for both residential and business purposes.
We offer any type of retractable awnings you may need, from freestanding canopies to compact domes. Choose fabrics in stripes, solids or patterns. All are suited for UV resistance.
Through our combined locations and experience, Carroll Awning Company provides innovative craftsmanship, superb service, competitive pricing and unfailing attention to details in order to deliver a product that exceeds expectations.
Call for a FREE on-site estimate at 1-800-999-5617 or click here today!
Check us out on Facebook and Twitter as well!
Source:
http://www.homeimprovementpages.com.au/find/custom_design_awnings
http://voices.yahoo.com/diy-inexpensive-outdoor-awning-6290852.html?cat=30
http://www.canvascraftinc.com/blog/designing-your-custom-awning/