Posted on Thursday, November 21st, 2013 at 1:09 pm.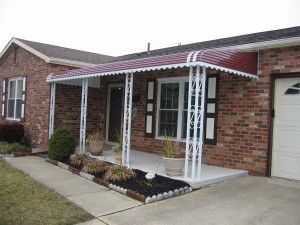 Do want to style up your property just in time for the holidays? You can do just that with attractive custom awnings. Traditionally awnings are composed of polyester or acrylic and attached to aluminum or steel frames. The custom awnings can hold up to any type of bad weather.
You will reap the benefits of having custom awnings because you can select color, patterns, shapes and sizes to complement your home exterior. You won't have to worry about removing awning fabric as the technology used for awnings produces lightweight awning fabrics and you can request to have retractable awnings made for your home or commercial business.
From porch awnings to window awnings, you can depend on Carroll Awning Company to provide you affordable, attractive and lightweight awnings for your property. We can even create holiday themed awning fabrics.
If you are a homeowner or business owner that loves the great outdoors,  the holiday season is the perfect time for you to invest in custom awnings, screens, canopies, and pergolas to enhance your curb appeal. With these outdoors features, you will have the opportunity to block harmful UV rays,  to reduce your property maintenance needs and you'll increase your property usage.
Have a look at our  custom awnings, retractables  and screens to see what we can do to increase your property value and style today. With custom awnings the possibilities are unlimited. Your customer satisfaction is our top priority.  We guarantee excellent quality and longevity in every awning design. Let us help you beautify your property, shield you from the harsh weather elements and save you money for your energy costs.
We are an award winning designer and manufacture of custom awnings. Our first award is for your project Parkridge Office Building in the category Commercial Awnings and Canopies, Less Than 112 Square Meters (1205 Square Feet). The second award is for Edenwald in the Commercial Awnings and Canopies, More Than 112 Square Meters (1205 Square Feet).
Carroll Awning Company has unmatched qualities on awnings and stylish awning frames for both residential and business purposes.
We offer any type of patio awnings you may need, from freestanding canopies to compact domes. Choose fabrics in stripes, solids or patterns. All are suited for UV resistance.
Through our combined locations and experience, Carroll Awning Company provides innovative craftsmanship, superb service, competitive pricing and unfailing attention to details in order to deliver a product that exceeds expectations.
Call for a FREE on-site estimate at 1-800-999-5617 or click here today!
Check s out on Facebook and Twitter as well!
Source:
http://iconsclub.com/car-maintenance/benefits-of-caravan-porch-awnings
http://www.ajc.com/gallery/classifieds/real-estate/ideas-sheltering-outdoors/gCBL8/#3534267