Posted on Friday, May 16th, 2014 at 4:02 pm.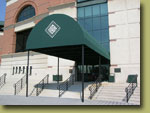 Do you own or manage a local hotel, resort or restaurant? Then it's time to do some upgrades to make your company appealing to your customers.
Having custom awnings installed for your business establishment can truly boost your business sales because a well maintained business has a way of attracting and keeping loyal customers. When shopping for stylish custom awnings, you should search for an awning provider that use only the finest material to create high-end commercial awnings.  You will want to do business with a high quality awning company because only fine awning material can effectively block harmful UV rays, while shielding your customers from inclement weather. Not to mention, custom awnings can protect your interiors as well as your furniture from harmful UV rays.
If your building upkeep seems a bit shaggy, you ca revitalize your building appearance with custom commercial awnings. There are so many awning designs to choose from. Get creative with your custom awning designs to really wow your customers.
Commercial awnings are not only practical, but also distinctive in look to help improve your business recognition, no matter how big or small your community. No mater rain or shy, custom awnings will keep your commercial property looking great. Awnings truly enhance the outdoor experience for customers while effective promoting your business. Yes, you can have your company logo, motto and more displayed on your awnings.
Carroll Awning Company s here to consult you on the perfect colors, patterns and themes for your business. We can create and install custom awnings that are truly stylish and professional in appearance.
Take a look at our commercial awning projects to see the high quality awnings you can expect for your property. We have all types of affordable awning designs available.
Carroll Awning Company has unmatched qualities on awnings and stylish awning frames for both residential and business purposes. Let Carroll Awning Company  help you decorate your property with awnings and reduce your energy costs today. Retractable awnings will reduce heat loss during the cold months of winter and protect your property from heat gain during the hot days of summer.
We offer any type of  awnings you may need, from freestanding canopies to compact domes. Choose fabrics in stripes, solids or patterns. All are suited for UV resistance.
Through our combined locations and experience, Carroll Awning Company provides innovative craftsmanship, superb service, competitive pricing and unfailing attention to details in order to deliver a product that exceeds expectations.
Call for a FREE on-site estimate at 1-800-999-5617 or click here today!
Check us out on Facebook and Twitter as well!
Source:
http://auniversalawnings.com/commercial