Posted on Friday, April 18th, 2014 at 6:44 pm.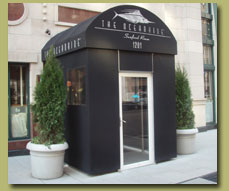 Are you searching for ways to better use your property space,but have no clue what products and materials could help you improve your usage of space? Stop worrying,you can take advantage of roll up curtains to help you create an elegant enclosure  for your home or business outdoor space, while improve your property usability.
When you have an enclosure that's flexible to your living or business needs, you can make your property  as comfortable as possible, while meeting your unique property needs. In fact with custom roll up curtains, you can customize your color scheme to complement the look of your building architecture, patio, bar, pavilion or other outdoor living space structure.
The roll up curtains can also protect you and visitors to your home or commercial building from harmful UVs while providing plenty of shade. For the best quality custom roll up curtains, you should hire a professional awning company like Carroll Awning Company to design and install your roll up curtains. The curtains can be used as outdoor patio curtains, windbreakers, and outdoor seating areas ( just to name a few).
To put it simple, roll up curtains are excellent curtains for separation and space saving for floors. You can open up the curtains anytime you need extra floor space. You can keep your outdoor space cleaner by using roll up curtains to secure a specified area. Best of all, roll up curtains are easy to clean and replace once installed. You can have better control over temperature, sound and odor just by using roll up curtains for your property. Get started today by taking a look at our line of roll up curtains at Carroll Awning Company.

Carroll Awning Company has unmatched qualities on awnings and stylish awning frames for both residential and business purposes. Let Carroll Awning Company  help you decorate your property with awnings and reduce your energy costs today. Retractable awnings will reduce heat loss during the cold months of winter and protect your property from heat gain during the hot days of summer.
We offer any type of  awnings you may need, from freestanding canopies to compact domes. Choose fabrics in stripes, solids or patterns. All are suited for UV resistance.
Through our combined locations and experience, Carroll Awning Company provides innovative craftsmanship, superb service, competitive pricing and unfailing attention to details in order to deliver a product that exceeds expectations.
Call for a FREE on-site estimate at 1-800-999-5617 or click here today!
Check s out on Facebook and Twitter as well!
Source:
http://www.goffscurtainwalls.com/curtain-walls/roll-curtains