Posted on Friday, May 25th, 2012 at 5:03 pm.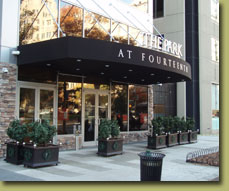 Are you looking for that perfect awning to install to your commercial business? If yes, you should look into illuminated awnings.
Installing illuminated awnings on your business is a great way to enhance the look of your building because it adds shape, dimension and color to promote your business.
Illuminated awnings also provide exceptional protection for your business against weather elements.
At night your illuminated awnings can provide a great amount of light to draw attention to your business. These kinds of awnings are great for restaurants, bars, and retail stores that stay open late.
Carroll Awning is here to provide you a functional elegance that will provide your business 24-hours of distinct visibility, while protecting your interior furnishings. Read about our commercial awnings here. We incorporate the latest technology and materials to guarantee your business years of quality identification and building enhancement.
Through our combined locations and experience, Carroll Awning Company provides innovative craftsmanship, superb service, competitive pricing and unfailing attention to details in order to deliver a product that exceeds expectations.
A satisfied customer is always our first priority. We work with each of our customers to design an awning or canopy product that meets all the requirements of the situation. Thousands of projects and satisfied, repeat customers have taught us price is a primary concern but not the only concern. Therefore, quality and longevity of your awning are important factors in determining the true cost of the product. Material costs vary greatly and reflect the life expectancy and warrant they carry.
We can help you determine which products will provide the truly cost effective awning. For more information, fabric swatches and free quotation call Carroll Awning at 1-800-999-5617 or click here today!
Awnings can be used to advertise a business, beautify a building or home, offer shelter from the weather or control energy costs — or all of these things at once. We custom make many different kinds of awnings for many different clients, both commercial and residential. Let Carroll Awning serve you.