Posted on Wednesday, May 16th, 2012 at 6:23 pm.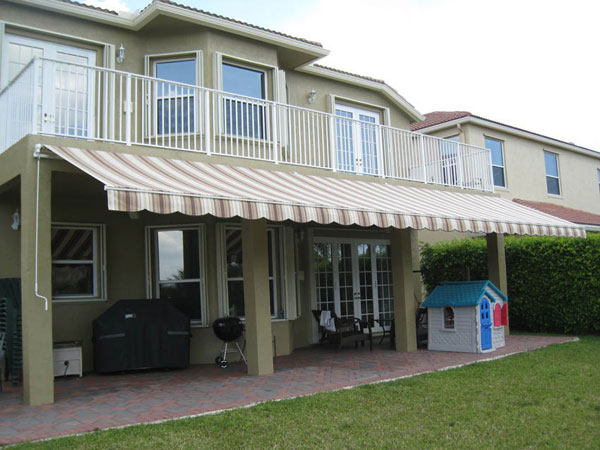 Are you considering installing retractable awnings on your home or business? If yes, you should know a thing or two about how retractable awnings work. Read now to learn all about the functionality of retractable awnings.
How Retractable Awnings Are Manufactured And Assembled
When retractable awnings are made, sun-resistant awning fabric is used and wound onto a roller beam that is connected to motorize arm mechanisms. These arm mechanisms are mounted with bolts to your building structure on a header rail.
Retractable awnings are easily unfurled with a wall mount or remote control switch. This activation will engage the motor and move the arms to extend the awning to its full length or its mid-point extension. The choice is yours.
As for retracting, you would use the same activation switch to roll-up the shade and contract the arms up into its header board.
The great thing about retractable awnings is their convenience. They will not only provide shade but can help control the level of sun that shines on your home, business or even your deck.
When choosing retractable awnings you will need to decide whether a manual or motorized will work best for your lifestyle. If you plan on retracting your awning everyday, a motorized awning will work best. Motorized awnings are especially useful for large, heavy, laborious awnings. Its great for both heavy wind and rain storms because you can use a remote control to retract while remaining indoors.
If you will rarely retract your awning, a manual one will be suitable.
Carroll Awning Company can custom-build and install your retractable awnings based on your needs and wants. We will help you decide on the colors, styles, patterns and materials that will best match your décor and functionality needs. Browse some of our sample works here.
Through our combined locations and experience, Carroll Awning Company provides innovative craftsmanship, superb service, competitive pricing and unfailing attention to details in order to deliver a product that exceeds expectations.
A satisfied customer is always our first priority. We work with each of our customers to design an awning or canopy product that meets all the requirements of the situation. Thousands of projects and satisfied, repeat customers have taught us price is a primary concern but not the only concern. Therefore, quality and longevity of your awning are important factors in determining the true cost of the product. Material costs vary greatly and reflect the life expectancy and warrant they carry.
We can help you determine which products will provide the truly cost effective awning. For more information, fabric swatches and free quotation call Carroll Awning at 1-800-999-5617 or click here today!
Awnings can be used to advertise a business, beautify a building or home, offer shelter from the weather or control energy costs — or all of these things at once. We custom make many different kinds of awnings for many different clients, both commercial and residential. Let Carroll Awning serve you.
Check us out on Facebook and Twitter as well!