Posted on Friday, November 30th, 2012 at 8:27 pm.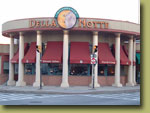 The weather is getting colder. You want your business to as welcoming as you possibly can for the holidays. The more attractive your storefront looks, the more customers and revenue you will attract.
If you're a restaurant or other commercial business, colorful awnings can be the perfect solution for attracting customers and bringing in more revenue to your business.
It's always crucial to maintain a good image for your business.
Set yourself apart from your competition with awnings that have your custom logo on and personalized colors.
Here are some colors that really stand out for awnings during the winter holiday:
–      Blue
–      Red
–      Purple
–      Yellow
–      Lime green with brown
–      And more.
Be welcoming. Be distinctive. Remember, during the holidays many consumers have invested their emotions into shopping for gifts and looking for businesses that storefronts catch their eyes. Use this to your advantage.
See what Carroll Awning Company can do for you by reviewing our Commercial Awning Gallery .
For more information on commercial awnings  and canopies as well as free quotation, call Carroll Awning at 1-800-999-5617 or click here today!