Posted on Thursday, October 10th, 2019 at 9:22 am.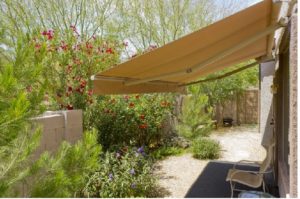 After you've put the time, money, and energy into getting an awning installed, now you have to care for it. If you take good care of your residential awning, it can last for several years. The best way to ensure your awning lasts is to perform regular maintenance checks and occasional cleanings. Read on to find out the best residential awning maintenance tips to keep your awning in top shape for years to come.
Sweeping
Look around for any dirt along the top and bottom of your awning. Sweep any dirt you find with a broom and dustpan. This keeps your fabric looking pristine. Also, if you address dirt right away, you stop dirt from accumulating over time. Make sure you pick a broom with soft bristles because these brooms won't damage your fabric.
Trimming
Not everything about residential awning cleaning happens directly on the awning. Other parts of maintenance involve keeping things away from the awning. This includes any trees and shrubs that could be inching closer to the awning gradually. Make sure you trim your branches and shrubs so that they don't rub against your awning and cause damage. Many plants have acids that can wear down the fabric of your awning, resulting in discoloration. On top of that, some branches are sharp and can poke holes. To protect your residential awning, keep those plants at a safe distance.
Monitor your Residential Awning
Check on your residential awning every now and then to see if there are any tears in it. Smaller damages can be repaired easily, so if you notice any minor rips or tears, get them repaired immediately before they become a bigger problem.
Keep your Residential Awning Washed
Your residential awning is going to get dirty over time. To keep the dirt from piling up, wash it with soap and water. Your best bet is to use a soft bristle brush so that everything soaks into the fabric. Later, you want to rinse your awning using a hose until you get rid of all of the soap residue. This is important because the soap residue can discolor your awning if you don't rinse it off.
Contact Carroll Architectural Shade Today
Through our combined locations in Baltimore, Maryland, and Washington, D.C., Carroll Architectural Shade provides innovative craftsmanship, superb service, competitive pricing, and unfailing attention to detail for customers throughout Maryland and Virginia.
Our highly skilled craftsmen design and custom manufacture shade products in house, including commercial awnings, residential awnings, retractable awnings, roll up curtains, aluminum awnings, and flat metal canopies. Founded in 1958 by James Carroll Sr., and still family-owned by his sons today, Carroll Architectural Shade remains committed to delivering top quality craftsmanship and service.
Visit our website to see how we can serve you and follow us on Facebook, Twitter, Linkedin, Pinterest.