Posted on Friday, March 28th, 2014 at 4:51 pm.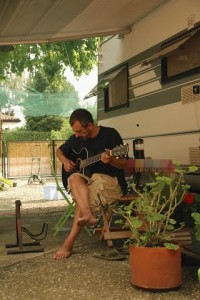 Awnings are great additions to mobile homes if you have a deck. They give you the ability to sit outside and avoid direct sunlight or light rain. Even better for a mobile home than a regular awning is a retractable awning. Chances are, you won't ALWAYS want your awning up, even if you do want it up frequently. Damage can easily occur if your awning isn't well taken care of or capable of being retracted in bad weather. Check out some more benefits of retractable awnings for your mobile home:
Keep your investment safe. Sensors can be installed near your motorized awning to detect when the wind gets too strong for the awning to handle and it will immediately retract. You can also retract your awning anytime a snowstorm, ice storm, or thunderstorm hits. This will help keep the investment you made safer. Nobody likes flushing money down the drain.
Stay healthy. Too many UV rays from the sun can damage your skin. While people like sitting outside in the spring and summer, too much sun can be bad for you. Wearing sunscreen is the first line of protection, but an awning can also help you keep safe from the sun's harmful rays.
Control the temperature in and outside. If the sun can't reach your front windows, it'll keep the inside of your home cooler. This is especially important in the summer when you spend your time fighting to keep your home as cool as possible. In the winter, you can retract the awning to tempt some extra sunlight into your home. Having an awning will also help keep your deck a little cooler and provide much needed shade.
Aesthetic value is important. Not only will you add actual value to your mobile home, but you'll expand your living space and give it a little extra curb appeal. The right kind of retractable awning will make your mobile home feel even more homey.
We offer any type of patio awnings you may need, from freestanding canopies to compact domes. Choose fabrics in stripes, solids or patterns. All are suited for UV resistance. Through our combined locations and experience, Carroll Awning Company provides innovative craftsmanship, superb service, competitive pricing and unfailing attention to details in order to deliver a product that exceeds expectations. Call for a FREE on-site estimate at 1-800-999-5617 or click here today!
Check us out on Facebook and Twitter as well!
Source: http://www.storm-solutions.net/blog/the-benefits-of-motorized-retractable-awnings